Brand Authorized
Thank you so much for your attention in Realdollshub.com! As a professional sex doll vendor, we have been providing high-quality sex dolls and considerate services for many doll lovers. Therefore, we totally understand the concerns of our customers.
Especially as a new doll player, facing the messy sex doll market, and various rules, such as customization, transportation, and payment. You can imagine how much puzzled they will face! But no matter what, building mutual trust is alway the first step, so we hope to provide long-term services to our customers by building trust and becoming friends together. Thus, we believe the manufacturer's authentic authorization certificate are the most direct channel to build trust in addition to customer reviews and a few images.
As the main force in the sex doll market, we have been recognized by mainstream doll factories on the market which have high expectations of us. They granted Realdollshub.com authorization certificate and we will show you some of these certificates below, which we hope can build trust between us!
WM Doll's Authorization Certificate: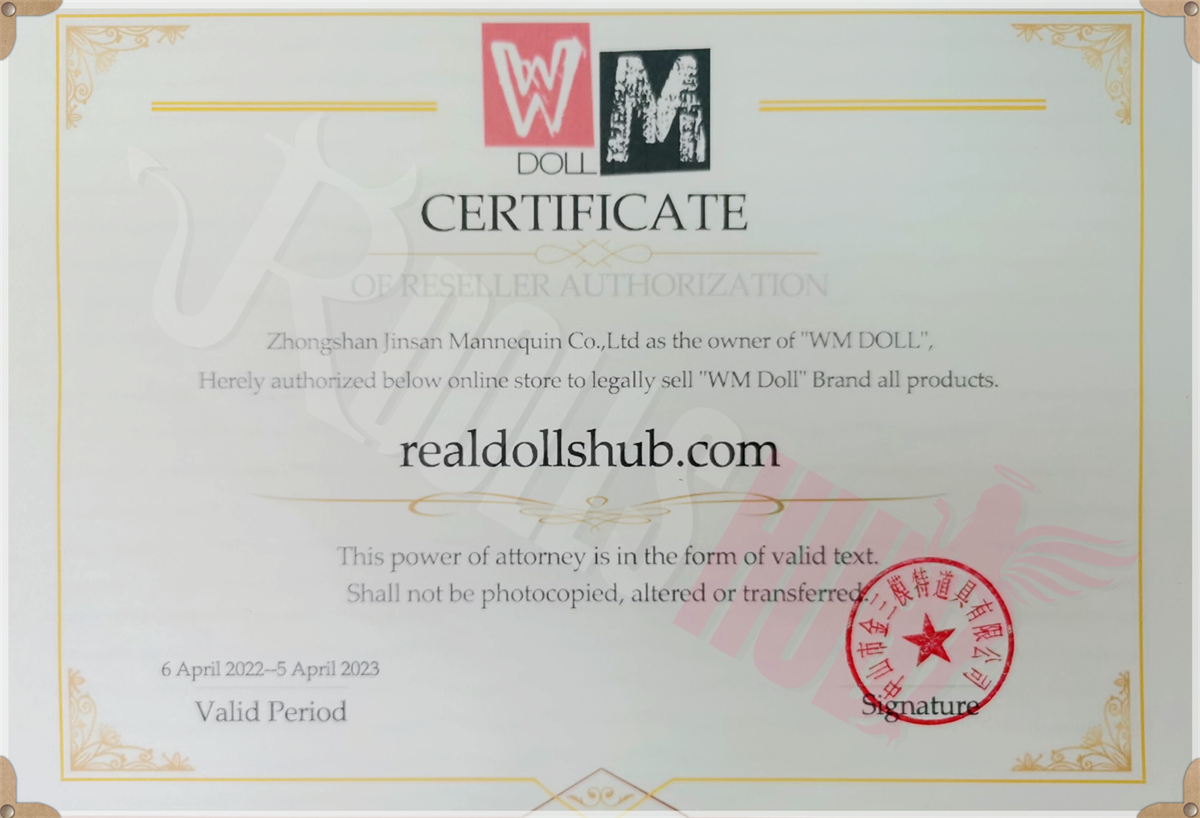 WM Dolls, which was creat by Jinsan Wanmei company (China). It is the leading manufacturer of high-quality TPE lifelike dolls, with an incredible variety of bodies and heads. WM dolls are meticulously handcrafted and treated by specialists. Wm dolls are more sophisticated and lifelike dude to their high-quality silicone and TPE materials, excellent cosmetics, and a realistic touch.
WM Dolls, being one of the most well-known sex doll makers, YL Doll and OR Doll also manufacture by WM factory. There are a number of popular sex dolls to pick from, including Japanese sex dolls and BBW dolls, young cute college sex doll, busty mature women with enormous breasts, male sex dolls, and every kinds of sex dolls you can dream of.
Irontech Doll's Authorization Certificate:
Irontech doll is one of the finest in the sex doll business with beautiful features and unrivaled attractiveness. All Irontech dolls are totally configurable, because they all equipped with M16 neck and body connections, allowing them to be used with WM DOLLS, YLDOLL, and SE dolls. They've made advancements in areas such as bones, skin contact, private regions, cosmetics, and so on.
Irontechdoll has also been classified as an authorized maker by TDF, the world's largest doll forum, for the past four years. Irontech doll has covering the most realistic form of sex dolls. All Irontech dolls are totally customizable; you may pick from a variety of skin tones, eye colors, wig styles, and nail colors, as well as whether or not they stand. Irontech's male dolls are very famous, their workmanship and details are perfect, especially the silicone head!
Zelex Doll's Authorization Certificate:
ZELEX DOll is one of the hottest sex doll brands right now! Founded in 2013 with a complete service team of design, manufacturing, sales, and marketing. ZELEX combines traditional wax sculptures with 3D digital modeling technology to give the love dolls angelic faces and devil bodies!
ZELEX's "Beauty Series" are all modeled by real people scans. If you have ever fantasy of owning a super model girlfriend, then your dream is gonna become reality. The detailed treatment of ZELEX silicone dolls is fantastic as well. The surface of the doll is printed with skin texture and blood vessels, and with the delicate makeup, it will bring you the most realistic and extraordinary experience!
In addition, ZELEX's silicone sex dolls use non-toxic platinum silicone materials imported from the United States, which can also be used for sensitive skin! All doll's interiors fill with foam to achieve weight loss, and that is for free!
Starpery Doll's Authorization Certificate:
Starpery Doll is one of the hottest doll brands out there! There is a romantic story behind the brand: Starpery stands for stars, and apery means they will use apery technology to help humans become stars in the galaxy. In addition to making love dolls more real, constantly improving the quality of sex dolls, and making them more intelligent, "making sex robots serve people and take care of people" is Starpery's vision.
Starpery also promises to bring a major change to its sex dolls every year. For example Hyperrealistic TPE 3.0 - 2019. TPE/Silicone Doll Weight Loss - 2020. Hair Transplant/Lash/Brow Soft Head - 2021. And they also promise to develop 20 new heads and 4 new bodies in 2022!
In addition to Starpery's brand vision, its product strength has always been recognized by doll lovers. Real sharing of their owners is also often seen on social media. The obvious veins, body spots, and realistic bikini sunburn make it almost impossible to tell that she is just a love doll.
SE Doll's Authorization Certificate:
SE Doll is one of the famous brands of realistic sex dolls, their excellent team consists of sculptors, engineers, and makeup artists who can produce a variety of styles, high quality, realistic silicone, and TPE sex dolls. Different from other sex doll brands, SE Doll is famous for its competitive prices and rich styles, especially the elf sex dolls from the fantasy sex doll series they design, which are highly sought after by doll lovers and also one of SE Doll's representative works. Besides, these life-size elf dolls offer an extra-sensory experience that feels so real, with vaginas, anus, and mouths. All SE sex dolls feature oral sex and a Lubricant-Free Vagina option for the ultimate sex experience!
If you want to have a wonderful relationship with these mysterious and beautiful elf sex dolls and vampire sex dolls, then SE sex doll is the best choice for you! Realdollshub.com is an authorized SE Doll reseller where you can buy or customize genuine, high end SE Dolls at any time.
Funwest Doll's Authorization Certificate:
If you are looking for a shemale sex doll, then you have come to the right place! Realdollshub is the official vendor of Funwest doll. Funwest doll carries varity of premium TPE sex dolls. They are well known for their exquisite shemale sex doll. These hot shemale sex dolls are made with medical-grade TPE and silicone material, so you can kiss her lips or juicy pussy as you wish. The built-in alloy frame allows them to perform any movement you like. Besides, you can put a dildo on her and switch genders at any time. She caters to you, fulfilling your beastly desires. Her sakura mouth and big tight ass crave your hard cock! Stop fantasizing, it's time to make this idea into reality! Buy Funwest sex doll at realdollshub and can get an extra penis for free!
Mozu Doll's Authorization Certificate:
MOZU Doll is a famous manufacturer of anime sex dolls. They are well-known in the sex doll industry for their 2.5-dimensional sex dolls. It is a well-known brand for many anime sex doll lovers, and you can see this MOZU Doll on many sex doll forums. Because MOZU's anime sex dolls are highly playable, their owners are imaginative and practical. Often DIY different makeup and cosplay different roles for these anime dolls. MOZU dolls adopt advanced manufacturing technology to produce TPE sex dolls with delicate skin and real touch.

Company Info
Company Policies
Popular Content
Contact Us

WhatsApp: +86 191 5494 6268

Phone: +1 (361)-813-0910

Email: service@realdollshub.com

Start a WhatsApp chat with us: