SE DOLL
(151)
SE Doll is one of the famous brands of realistic sex dolls, their excellent team consists of sculptors, engineers, and makeup artists who can produce a variety of styles, high quality, realistic silicone, and TPE sex dolls. Different from other sex doll brands, SE Doll is famous for its competitive prices and rich styles, especially the elf sex dolls from the fantasy sex doll series they design, which are highly sought after by doll lovers and also one of SE Doll's representative works. Besides, these life-size elf dolls offer an extra-sensory experience that feels so real, with vaginas, anus, and mouths. All SE sex dolls feature oral sex and a Lubricant-Free Vagina option for the ultimate sex experience!
If you want to have a wonderful relationship with these mysterious and beautiful elf sex dolls and vampire sex dolls, then SE sex doll is the best choice for you! Realdollshub.com is an authorized SE Doll reseller where you can buy or customize genuine, high end SE Dolls at any time.
Everything About SE Doll
SE Doll dolls may be the unique brand of sex dolls to date! It is one of the most unique and reliable sex doll companies in the sex doll industry, whether it is the design inspiration or the quality of the dolls.
If you ask what sets SE Doll apart, it's definitely their typical sexy creature realistic dolls with pointed elf ears or vampire's teeth. Popular series are all from the fantasy world! If you have ever fantasized about adventuring in another world and having a busty elf wife, SE Real Doll can make your dreams come true!
SE Authorized Retailer
Real dolls hub has been in touch with many sex doll brands and we are also an authorized agent for SE Doll. SE Sex Doll is a manufacturer that truly focuses on quality and puts effort into the design to overcome the challenges all TPE doll manufacturers face. From what I understand, the quality of SE Real Dolls has been continuously improving, even though they are already outstanding.
Unique Sex Doll Styles Design
Elves? Vampires? Succubi? Imagine if the fabric of time and space were twisted and brought you to a different world. As you awaken, you are surrounded by a large group of beautiful elf girls with impressive breasts, snow-white skin, and pointed ears.
At the same time, the eyes shine with a faint blue light, while succubi with elder horns and vampire girls with sharp teeth and tails also stare at you from the shadows. Then you realize that you are the only male in this world! Yes, your life in a harem of a different world is about to begin!
So, whether your fantasy object is an elf, a vampire, a succubus, or a sexy female protagonist from games or movies, you can find these interesting one-to-one real-life-sized dolls at realdollshub.com. Currently, my two favorite dolls are Samantha Sex Doll and Murasaki sex doll! The former is a fierce and lustful supernatural female succubus, which is a work that can arouse your desire. On the other hand, Murasaki is an Asian-faced sex doll with purple hair from Japan, which has a unique charm. SE Love Doll's medical-grade TPE dolls are affordable, and dolls such as Amanda, Alita, and Kitty are worth a try...
Realistic SE Doll Photos
Many people may worry that the seller has excessively beautified the dolls and that the real dolls may be completely different from the photos. However, there is no need to worry, as the factory takes these photos without spending time on lighting or any photo retouching. They only use makeup and make every effort to make the dolls look lifelike. I have to say that these are some of the most realistic sex doll photos I have ever seen. Because the TPE doll material itself does not have the realism of silicone dolls, the quality-focused brand SE Doll puts effort into craftsmanship to reduce the shortcomings brought about by the material itself.
Super Realistic Touching Experience
SE X Doll offers three types of breast options for everyone to choose from Solid, Hollow, and gel-filled. Among them, we highly recommend the Gel-Filled breasts, the hottest sex doll breast on the market, because it is far superior to other breast shapes in softness and touch. You my want to know how to select sex doll breast.
Imagine when your hands gently cross her silky skin and knead on her big breasts. It just feels like you're holding a soft, water-like cotton ball or a cloud in your hands! The complete rebound of the big breasts will make you unable to stop playing with them, as if you have opened the door to a new world and can never get enough!
Soft Oral Channel with Tongue
SE's TPE dolls offer two types of mouths: non-tongue textured channel mouths and fixed tongue textured channel mouths. The 18cm/7.1-inch soft oral channel has good elasticity, so you don't have to worry about her being unable to accommodate your XL cock. Just enjoy filling these soft, erotic mouths or throats. And both options are the best choice for oral sex lovers!
Note: The silicone head is hard and does not have an oral channel, so it does not come with oral sex functionality.
Replaceable Teeth and Tongue Set
In addition, to enhance your visual experience, SE Doll has also released two sets of teeth and tongue accessories for you to choose from. You can select sharper fangs to satisfy your vampire fetish. Of course, these fangs and tongues are made of very soft TPE material and are not as sharp as they appear.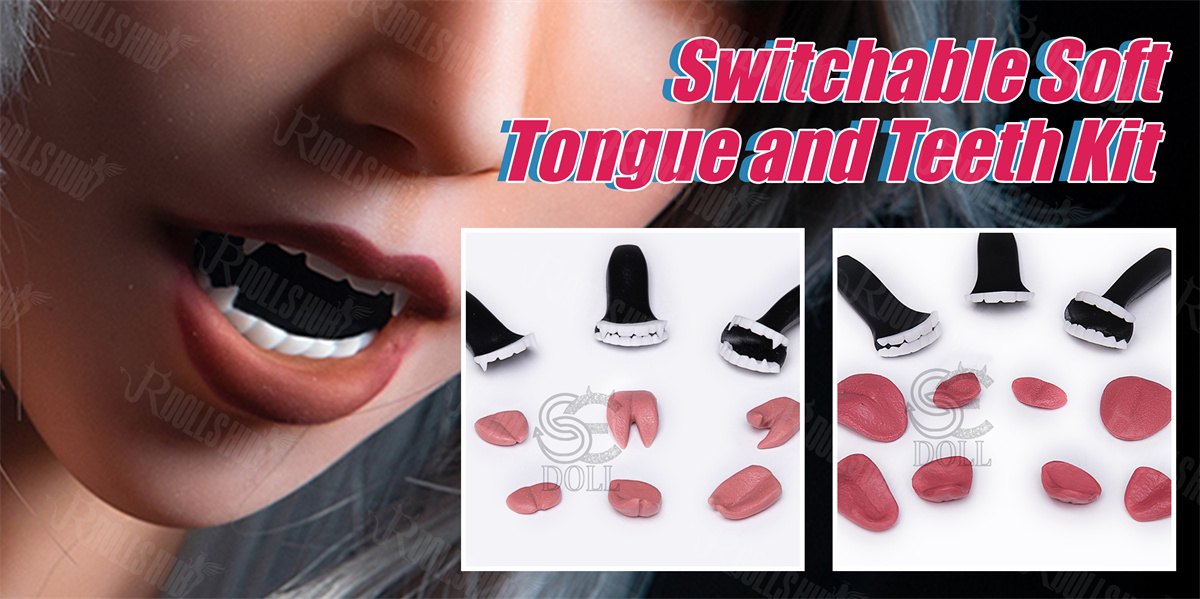 Auto Body Heating Function
If you live in a cold area all year round and are concerned that your SE sex doll will feel like a block of ice due to a lack of body warmth, then Smart Body Heating is the solution. This optional upgrade feature can heat your doll from the inside out to a temperature similar to that of a natural person within 25-30 minutes after being plugged in. You may start to wonder if she is a living, breathing woman.
Please note: When selecting this option, do not let water enter the charging port when cleaning your sex doll. You can also choose to use sturdy tape to seal the charging port to prevent short circuits or electronic malfunctions.
Touch Moaning and Offline Conversation Function
Like other brands, SE Doll also offers the latest 5-point touch moaning and offline conversation function. In particular, the touch moaning function immerses you in the experience, allowing you to fully release your hormones regarding sight, touch, and hearing! This upgrade option is sure to captivate you, multiplying your sexual experience.
Please note: You can choose to install the sound box on the head or side of the body. If you order two heads at once, the sturdy box will be set on the body.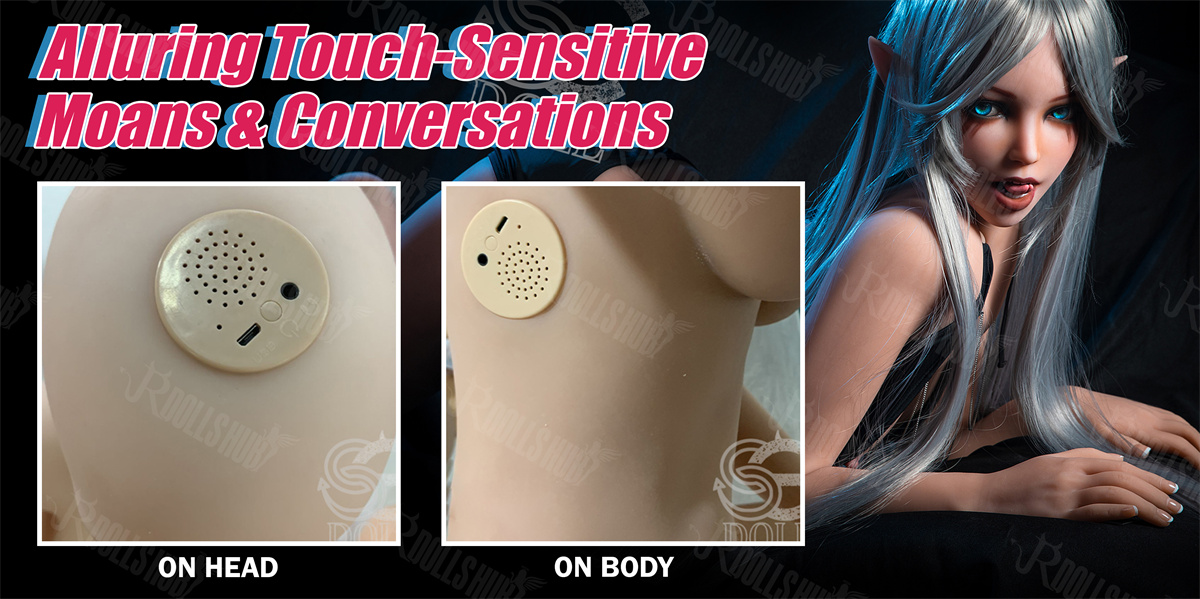 Original Sex Doll Makeup Styles
As a founder with an art and design background, I really appreciate SE Doll's doll face makeup design. Perhaps this is one of the reasons that make them stand out from the crowd. Moreover, it's not easy to achieve these unique and more human-like doll makeup designs by hand. Before making the dolls, the founder would draw many design sketches, striving to depict every characteristic of the dolls and make each doll unique. SE Doll uses all makeup materials made for humans, which is also healthier for customers. After finishing the makeup, workers will also spray multiple protective layers on the doll's face to prevent the delicate makeup from falling off easily and achieve a lifespan of over 5 years.
Customize Your Own Skin Tone
SE Doll offers you a variety of skin tone options, and if you like unique colors such as red, green, or purple, we can also meet your needs. For just an additional $300, you can customize your own exclusive skin tone sex doll based on your preferences and provide any Pantone color number.
A Flexible Skeleton Unlocks More Positions!
In addition, SE Doll spends much time trying out new accessories. The currently famous EVO skeleton is an upgraded version of the traditional skeleton and is currently the industry's most natural and safe mainstream skeleton. If your new SE doll's skeleton is very hard and difficult to manipulate, that's good news because it means you have a brand-new doll. Realdollshub has summarized the correct way to use TPE doll skeletons and recommends following the instructions to pose or move your doll.
Note: Applying too much force to the skeleton can cause damage, so it is essential to use it correctly.
Extensive Customization Services
DIY is fun because you can customize a unique and fully personalized love doll based on your preferences. This is also why many people are willing to pay more and wait longer. SE Doll provides various customization options for everyone's convenience, including hair, eyes, mouth, breasts, skin color, and more. Start customizing your exclusive SE love doll now!
PS: SE Doll usually offers a free second head and also has an oral cavity for oral sex. Don't forget to add it to your shopping cart together.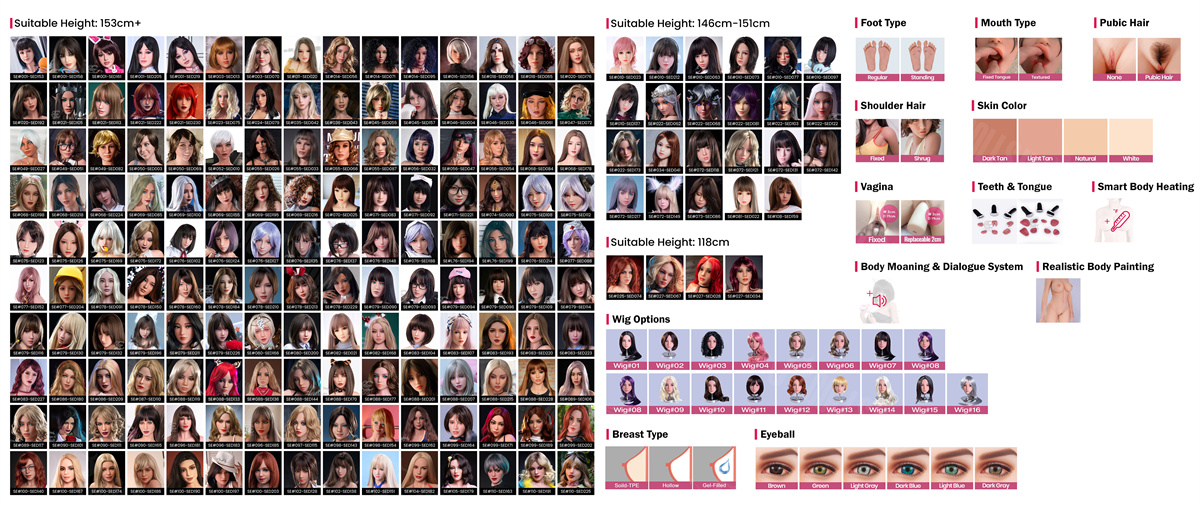 Body Measurement Sheet
This doll size chart provides bust, hip, height, etc., for estimating body shape. Using a size chart is an easy way to determine which sex doll is best for you since you can't estimate size from photos of dolls.
Please note: All data are measured by hand. There may be small errors. Please understand, and thank you.
Read More

Company Info
Company Policies
Popular Content
Contact Us

WhatsApp: +86 191 5494 6268

Phone: +1 (361)-813-0910

Email: service@realdollshub.com

Start a WhatsApp chat with us: