MALE SEX DOLL
(45)
A lot of female clients have not been physically satisfied due to their partner's premature ejaculation, frigidity, and other reasons. But a male sex doll with a big hard penis will never be disgusted with you for any reason.
Premature ejaculation, erectile dysfunction, and other problems that affect the sexual experience will never bother you. He always makes you orgasm, If you want, you can keep having fun with him, until you are exhausted, he will let you know what continuous orgasm is! For many people who have never experienced an orgasm in their entire life, this is simply their gospel! He is always ready at any time, listens, and companions with you.
Realdollshub has many different styles of premium male sex dolls for male sex doll lovers, deep eyes, strong abdominal muscles, and a brawny penis. No one knows you better than we do. Our male X dolls generally have four penises of different sizes and hardness for you to choose from, and you can choose whether you need to add detachable functions. If you have a sufficient budget, you can also choose full-body hair transplantation, which will make your lover look more masculine and more authentic! TPE male doll have two channels for use, mouth, and anus. Silicone male sex doll can only be used for the anus. But in any case, they won't let you down.
Male Sex Dolls 101
Male sex dolls, sometimes referred to as male love dolls or companion dolls, are inanimate toys created to mirror a male person's physical characteristics. These dolls are extremely lifelike in terms of look and feel and are frequently manufactured of silicone or TPE (thermoplastic elastomer).
In Realdollshub, we promise you an exquisite collection of male sex dolls that will be your best companion in bed and act like a true friend of yours whenever you need it to be.
History of male sex dolls
Male sex dolls have a lengthy history, with the oldest recorded instance occurring among the ancient Greeks. Pygmalion was a sculptor from Greek mythology who fell in love with a statue he had made. According to some versions of the tale, the gods animated the statue, whereas, according to others, Pygmalion's love was sufficient to do it.
The 20th century saw the invention of the first contemporary sex dolls for women, which homosexual men frequently utilised as a private means of expressing their sexuality. These early dolls were not particularly lifelike and were frequently constructed of rubber or latex.
Modern sex dolls for women are constructed of silicone or TPE (thermoplastic elastomer) and are far more realistic in look and feel thanks to advances in sex doll technology throughout time!
>
Top uses of a male sex doll
Here are some popular ways in which male sex dolls are used:
Sexual gratification: Male sex dolls are frequently utilised to obtain sexual satisfaction for many people. These dolls may be personalised to meet the user's unique preferences and wishes and be used to explore various fetishes and fantasies.
Companionship: Male sex dolls are sometimes used as companions by those who are lonely or prefer the company of inanimate things to people. These dolls may act as companions by offering physical and emotional assistance.
Fantasies & Fetishes: sex dolls for women may be a safe approach for people to explore their dreams and wants without running into the danger of being rejected or judged. With these dolls, scenes and settings that could be challenging or impossible to accomplish with a real companion can be acted out.
Experimentation: Many sex dolls for women may let people experiment with their sexuality and try out new things without running into the danger of being hurt or seeming foolish. Without asking for a human partner's permission or requiring dialogue, these dolls may be used to experiment with various fetishes, positions, and procedures.
Roleplaying scenarios: Male sex dolls may be a role-playing tool, enabling users to assume various personas and identities. These dolls may explore various facets of one's identity and act out scenarios.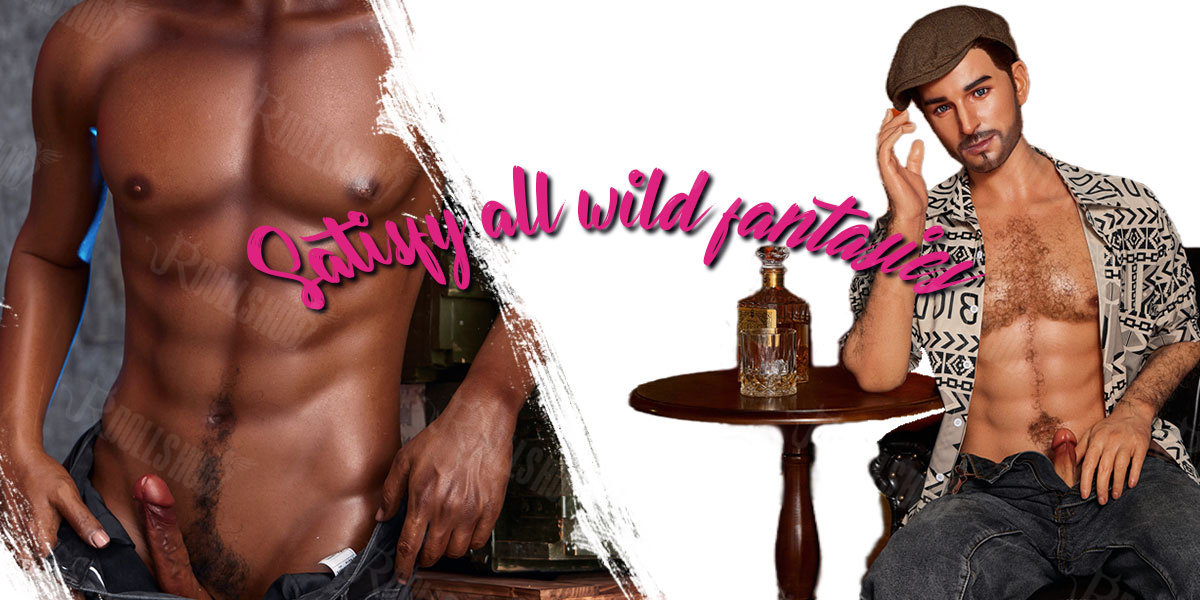 Do women also use male sex dolls?
Women do used male sex dolls. Male sex dolls may be used by anybody who is interested in them, regardless of gender or sexual orientation. Male sex dolls may be used for sexual enjoyment by some women, friendship by others, or as a means of fantasy play by others. Male sex dolls may be used by anybody who wants to buy and use them, regardless of gender or sexual orientation, just like any other merchandise.
How to dress up your male sex doll?
Depending on your preferences and the available apparel, there are several methods to dress up your male sex doll. You may dress up your male love doll by following these simple instructions:
Choose an outfit: Consider the sort of appearance you want to give your male sex doll and choose an outfit that reflects that. There are many different dress options available, such as formal clothes, costumes, and casual wear.
Gather your supplies: Make sure you have everything you need, such as clothes, shoes, socks, and any other accessories you choose to use, to dress your male sex doll. To assist in keeping your doll upright while you dress it, you might also need a doll stand or some other kind of support.
Preparing your doll: You might need to disassemble your male sex doll if it has removable limbs or other pieces so that you can dress it more quickly. To prevent damage, handle your doll with care and gentleness.
The attire: Put the clothing and accessories you've picked on your doll, making sure they fit properly. To keep the clothing in place, you might need to alter it or use pins or other fasteners.
The hair: Style your doll's hair to go with the costume you've chosen if your male sex doll includes a detachable wig or another hairpiece. To get the desired style, you can utilise tools and hair styling products.
Fancy accessories: Add final touches to your doll's wardrobe by accessorising with jewellery, hats, or other items. To create a more realistic or immersive aesthetic, you can also incorporate props or other materials.
So, what are you waiting for? Check out our vast collection of male sex dolls and order one for yourself right now!

Company Info
Company Policies
Popular Content
Contact Us

WhatsApp: +86 191 5494 6268

Phone: +1 (361)-813-0910

Email: service@realdollshub.com

Start a WhatsApp chat with us: