IRONTECH DOLL
(332)
Irontech doll is one of the finest in the sex doll business with beautiful features and unrivaled attractiveness. All Irontech sex dolls are totally configurable, because they all equipped with M16 neck and body connections, allowing them to be used with WM DOLLS, YL DOLL, and SE dolls. They've made advancements in areas such as bones, skin contact, private regions, cosmetics, and so on.
Irontechdoll has also been classified as an authorized maker by TDF, the world's largest doll forum, for the past four years. Irontech realistic doll has covering the most realistic form of sex dolls. All Irontech love dolls are totally customizable; you may pick from a variety of skin tones, eye colors, wig styles, and nail colors, as well as whether or not they stand. Irontech's male dolls are very famous, their workmanship and details are perfect, especially the silicone head. You can choose your favourit Irontech real sex doll from realdollshub.com, bucause Realdollshub are the official Irontech sex dolls global dealer, and Real dolls hub have access to all Irontech dolls.
All About Irontech Doll
Irontech Doll has been continuously recognized by TDF, the world's most prominent sex doll forum, as an authorized manufacturer. They have a larger collection of sex dolls than any other sex doll manufacturer, with a variety of types to choose from, including incredibly sexy BBW sex dolls, sex dolls with different skin tones, and fantasy anime sex dolls.
The unique Irontech Sex Doll comes in both male and female forms, each with exaggerated and ultra-realistic features. Today, it is one of the most well-known brands, providing the industry with exquisite sex dolls for over seven years. Whether TPE sex dolls or silicone sex dolls, all dolls are certified by CE, RoHS, and SGS, making Irontech a professional brand without any health hazards.
Authorized Supplier of Irontech
Real dolls hub is an authorized supplier of the well-known sex doll brand Irontech Doll. We guarantee that you will always be able to order the most authentic Irontech Sex Doll from realdollshub.com while also receiving better customer service and access to the latest discount promotions to lower prices. You should be aware that with the popularity of sex dolls, 90% of sex doll websites have started selling counterfeit dolls, which are of low quality, toxic, and even carcinogenic, to the market. Please avoid these toxic sex dolls at all costs!
Irontech Doll Factory Actual Photos
Real dollshub has collected some factory photos that were previously sent to customers. The doll factory took these photos, which are 100% original without any editing. To ensure that what you see is what you get after the doll is completed, we send photos and videos of the doll to the customer via email for confirmation. We ship the doll only when the customer is 100% satisfied and agrees to the shipment!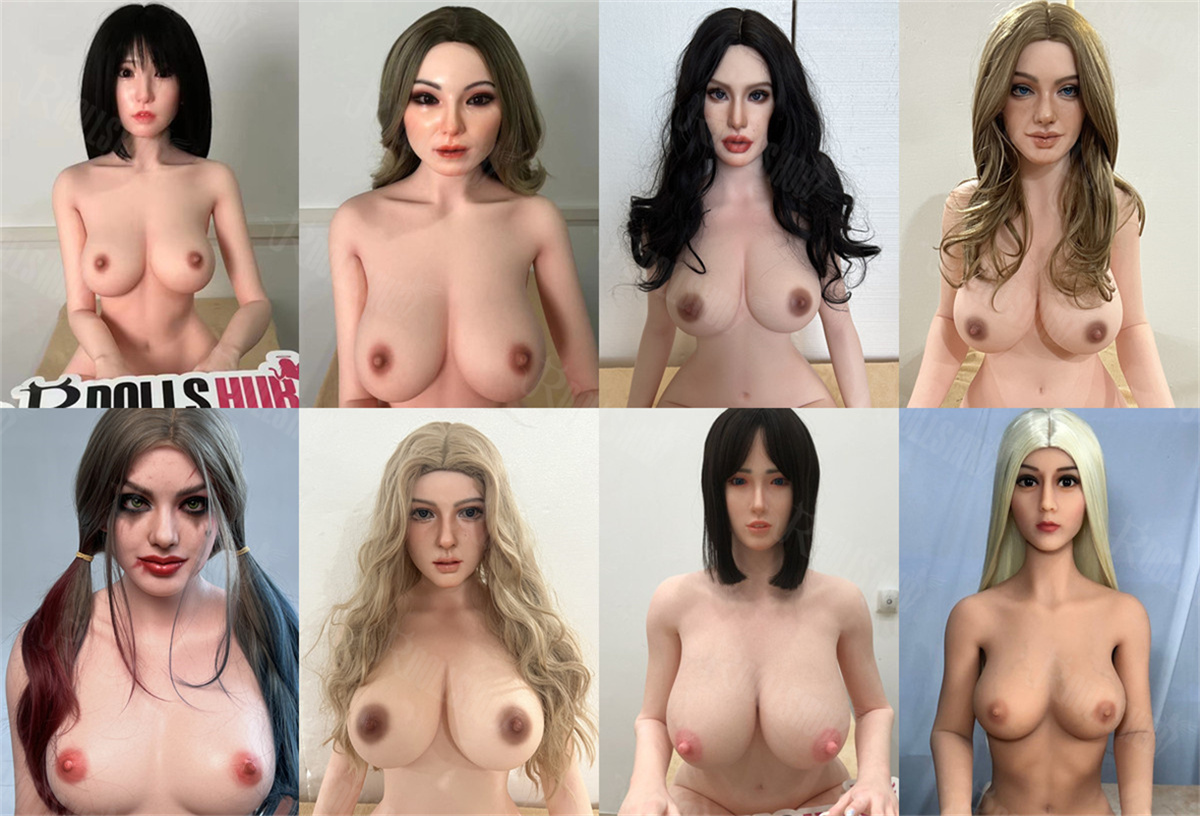 Irontech Doll in Real Life
Yes, it's true. Irontech X Dolls not only look beautiful in photos but also incredibly realistic and captivating in real life! Just look at these gorgeous lifestyle photos shared by our satisfied customers, and you'll see how seamlessly they blend into their owners' lives, bringing joy and companionship to them.
How are Irontech sex dolls manufactured?
In the early stages of its establishment, Irontech invested a significant amount of funds and effort to fill the gaps in the industry, such as the common issues of disproportionate body proportions, inaccurate LHP, and insufficiently realistic details. Below, Irontech demonstrates the manufacturing process for both silicone and TPE sex dolls. If you are interested in understanding how dolls are created with various realistic details, then this process will greatly interest you!


Realistic Detail Showcase
As Irontech sex dolls become more well-known, they have also created many soulful sex dolls. As a principle that Irontech insists on, all of their creations are based on the pursuit of beauty by sex doll enthusiasts! Irontech's imported platinum silicone and TPE are both very safe and soft materials, and their realism is similar but also has subtle differences.
Silicone realistic dolls are highly durable, and the makeup on the silicone head is more realistic than on the TPE head. The lifelike skin texture, pores and blood vessels are clearly visible, making them closer to real humans.
It is well known that TPE sex dolls are softer than silicone sex dolls and have a smoother texture. They are more cost-effective, which is why most people love them.
Great Range of Motion and Flexibility
Irontech Doll has created realistic skeletons for sex dolls, and all dolls have dynamic muscles or joints. This way, you can easily and quickly maneuver them and try different sex positions.
It has to be said that Irontech Doll looks very flexible and soft! However, for all dolls that cannot walk, the quality of the skeleton is on par with that of other dolls.


Soft Upgrade and Duoble Pleasure
Typically, silicone sex dolls are overall hard, while areas such as the buttocks and breasts require a softer touch. Irontech offers custom jelly breasts, buttocks, and ultra-soft jelly breasts and buttocks for these lifelike sex dolls.
Trust us. You'll be amazed by the soft and lascivious feel of these upgrades.



Smart Touching Moaning
Irontech Love Doll also offers many interesting upgrade options and updates. First and foremost is the 5-point touch sound function. This fascinating feature gives your doll vitality and allows her to emit alluring moans in sync with your rhythm.
You'll be surprised by the unexpected responses when you touch her chest, thighs, or genitals! You can connect headphones and charge them through the mini-USB port. Additionally, this feature supports English, Chinese, and Japanese languages.
Realistic and Soft Silicone Head
Although silicone sex dolls are realistic, they are still not soft enough and cannot perform oral sex. So Irontech has launched a softer silicone sex doll head, which guarantees realism while having a softness comparable to TPE dolls.
Irontech Love Doll will never disappoint you! They have also added a textured oral built-in tunnel for their silicone dolls, simultaneously satisfying both of your needs.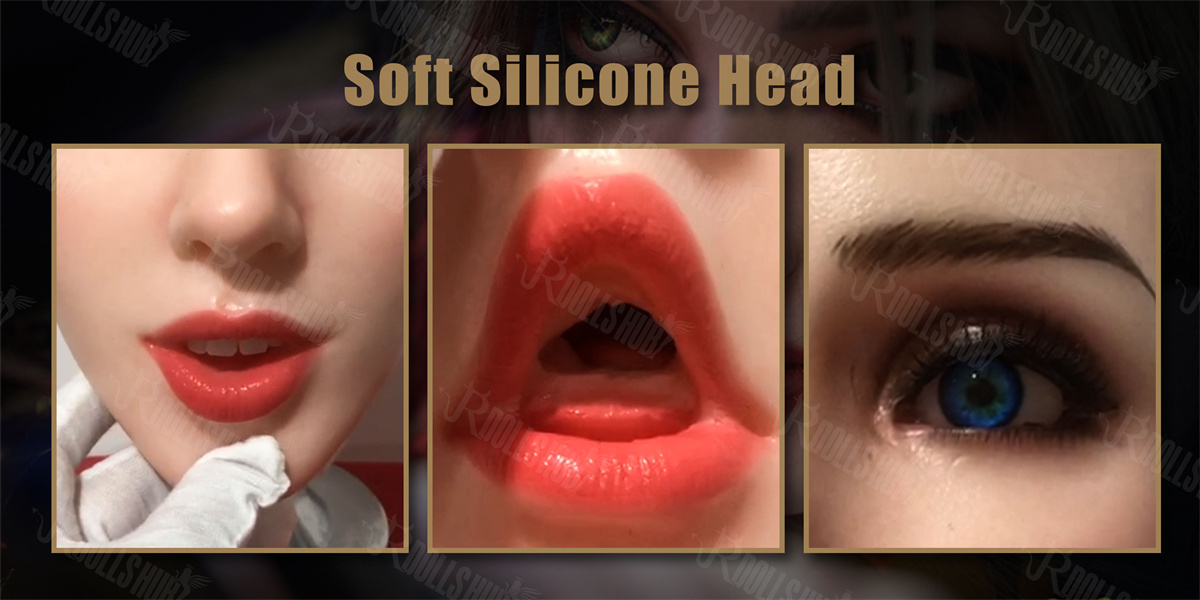 Soft Silicone Head with Movable Jaw & Complete Oral Structure
When it comes to oral structures, Irontech Sexy Doll has continued to enhance its doll heads by adding a movable jaw and complete oral structures, including realistic teeth, a tongue, and an articulated jawbone. This feature is currently only available for the S34 head. Nonetheless, Irontech is one of the most innovative brands constantly improving, and we can look forward to more updates from them in the future.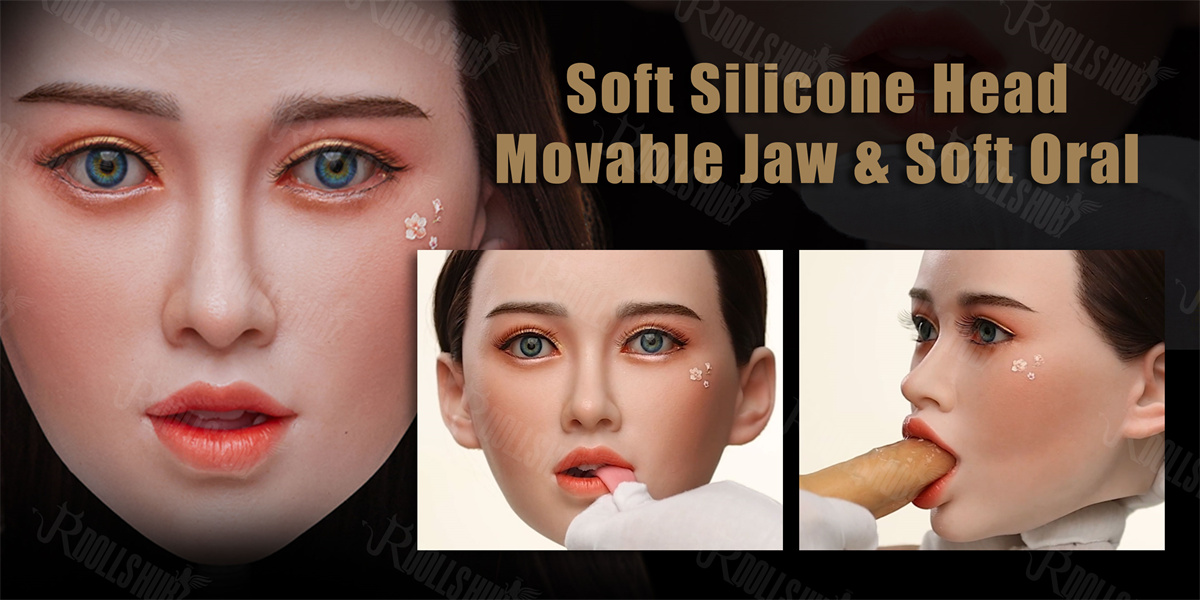 Wig or hair transplant?
Irontech also offers a choice between wigs and implanted hair for their dolls. You can choose according to your own needs. If you prefer a more playful doll, the wig option is perfect, as you can easily switch up her hairstyle and look. However, if you want a more realistic effect, you can opt for the silicone-implanted hair version, which looks more authentic.
*Please note that the TPE head is too soft that the implanted will easily drop off. So Irontech only provides the hair implant upgrade option for their regular hard silicone doll heads.
Fix Vagina or Removable Vagina?
Currently, 70% of customers choose the removable vagina option. The removable vagina is hidden inside the labia and can be detached for separate cleaning. The process is very simple. Irontech Doll also offers five types of vaginas. They are all made of soft materials. You can choose different types of folds and protrusions to experience the exquisite pleasure of penetrating the uterus through different air pressure suction.
Please note that the inserted vagina may not fit perfectly. If you choose a fixed vagina, clean it thoroughly and dry it immediately after use. You can use the dedicated vagina-cleaning device provided by realdollshub.com.
The Best Male Sex Doll Brand
Irontech Doll has designed a series of male sex dolls for women and transgender individuals, featuring strong abs and muscular and well-endowed penises. With a large selection of high-quality and authentic male sex dolls, our silicone and TPE male dolls come in four different penis sizes, and our premium sex dolls offer many ways to please you. Whether it's the tall and muscular pilot Bowen or the slim and tall singer Thomas, there is always a type that you will love.
Silicone Pregnant Sex Doll
Irontech X Doll has created a silicone sex doll for those interested in special sexual experiences - the pregnant sex doll. You can have sex with a sexy pregnant woman without worrying about unexpected situations. Each pregnant realistic doll features a soft belly of imported platinum silicone mixed with soft cotton, providing a lifelike experience.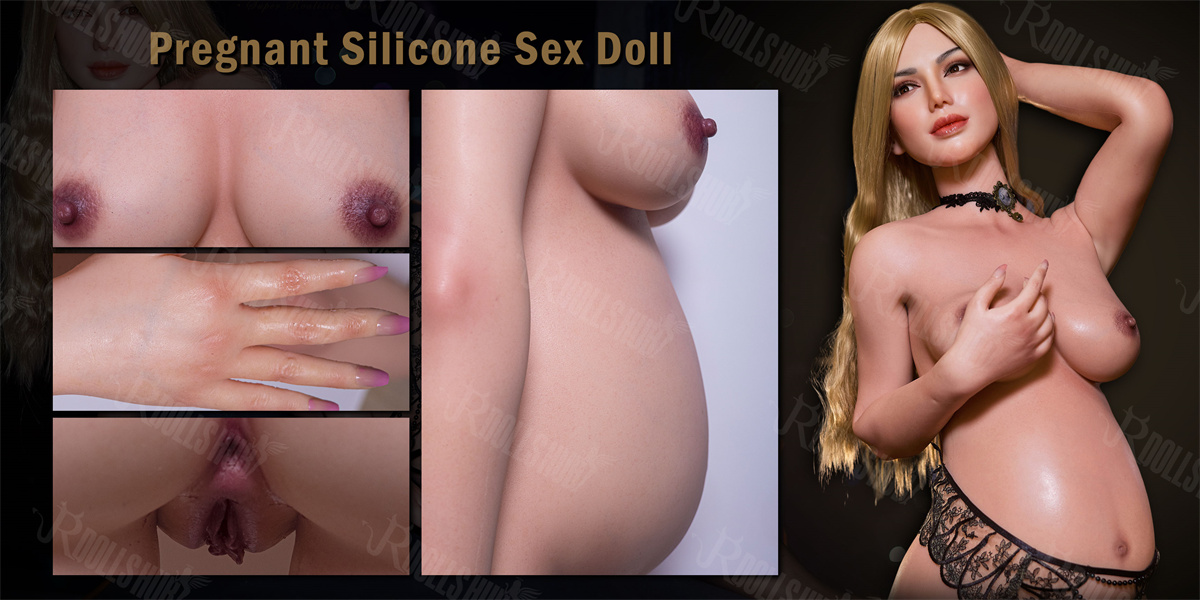 Display of Silicone Skin Colors
These lifelike Irontech Dolls are customizable in every way! Let's start with the four skin colors available for our silicone dolls: natural, tanned, dark tanned, and black.
Silicone Doll Body Types Showcase
These beautiful women are categorized into different height sizes. Whether slender, petite, or tall and curvy, they possess incredible features such as lively breasts, slim waistlines, and full buttocks. You can select your perfect sex doll using the following body size chart.
TPE Skin Tone Showcase
TPE sex dolls come in six skin tones, including white, natural, sun-tanned, light brown, brown, and black. Compared to silicone sex dolls, TPE sex dolls offer more options in terms of skin tone.
TPE Body Type Showcase
Irontech Doll has introduced 32 body types of TPE realistic dolls, which can be freely combined with different head types! If you can't find the one you're looking for in the current series, you can create a custom option on realdollshub.com.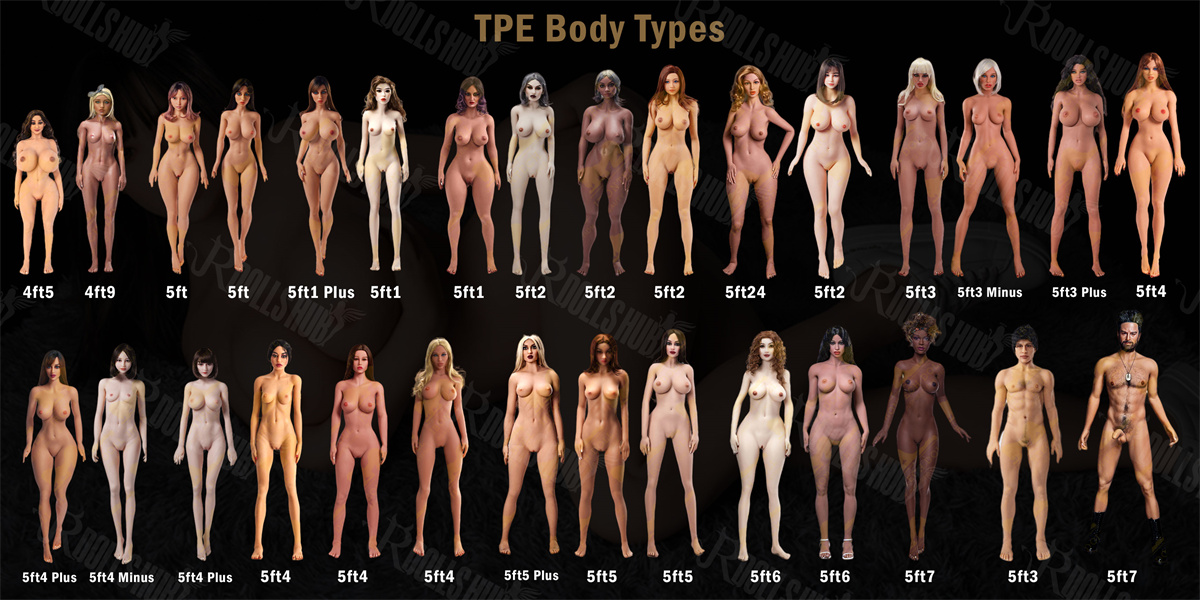 Extensive Customization Options
Everything about these lifelike Irontech Dolls can be customized. Their breasts, hair, vagina, manicure, and head type can all be personalized. The moaning function can be triggered through sensory contact, and an upgrade option for intelligent body temperature can make the doll's skin noticeably warmer.
The movable eyeballs can make the doll's expressions more vivid, and so on. If you are looking for a high-quality sex doll, don't hesitate to contact us via email for customization options.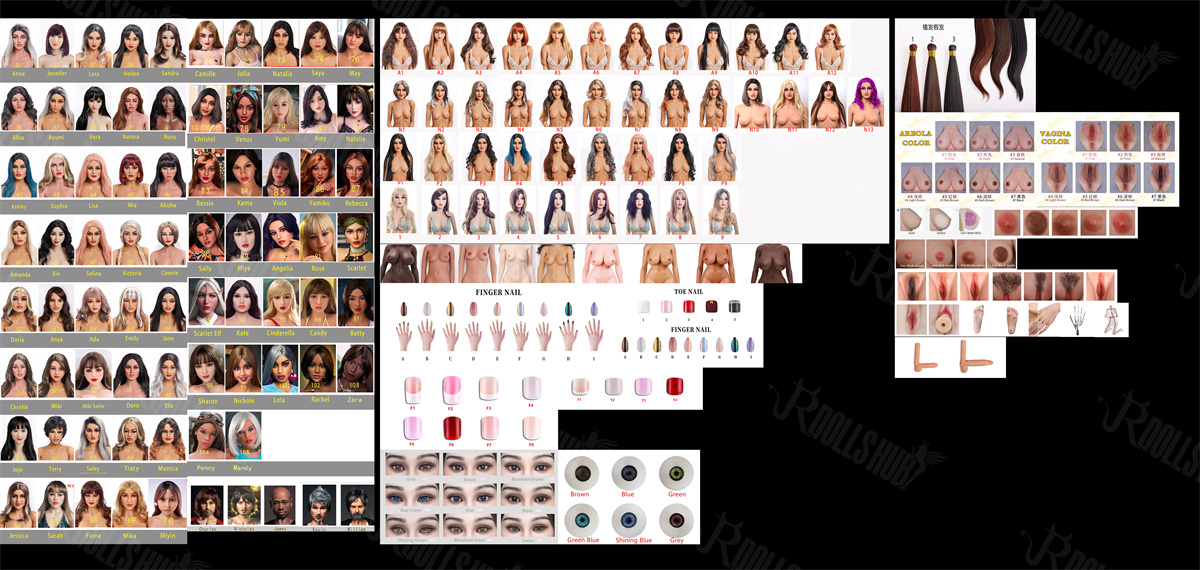 Gift Package
We provide a free accessory package for all customers who purchase an Irontech Doll, and realdollshub also offers an exclusive VIP gift package. We hope these packages can be helpful for you and kick-start your journey with your sex doll.
Various Body Measurement Data
This doll size chart provides measurements such as bust, hips, and height to help you estimate the body type. Using a size chart for Irontech Sex Doll is a simple way to determine the sex doll that is best suited for you, as you cannot estimate the size based on photos alone.
Read More

Company Info
Company Policies
Popular Content
Contact Us

WhatsApp: +86 191 5494 6268

Phone: +1 (361)-813-0910

Email: service@realdollshub.com

Start a WhatsApp chat with us: