EX DOLL
(67)
Founded in 2009, EX Doll has extensive experience in manufacturing high-quality silicone dolls. Their exceptional attention to detail and unparalleled originality set them apart from other brands, making them the first sex doll company to go public in China. EX Doll understands that everyone has different tastes and preferences when it comes to sex dolls, and they strive to satisfy people's deepest desires in a safe and respectful manner. This is why EX Doll offers four different series - Utopia, Ukiyo-e, CyberFusion, and RealClone - to meet a variety of needs. Learn More HERE!

About EX Doll
It is worth mentioning that EX Doll's RealClone series of sex dolls, produced using the latest 3D body scanning technology, are the most realistic sex dolls I have seen. Their naturally sexy curves and ultra-realistic features will instantly transport you to a fantasy world. Trust me, you don't want to miss out on EX Doll's high-quality sex dolls.
Authorized Vendor of EX Doll
Realdollshub is very fortunate to become an authorized agent for EX Doll! We will provide you with genuine dolls directly from the EX factory, ensuring the protection of your consumer rights. Operating with integrity and prioritizing customer satisfaction is our business philosophy. Please feel confident in making your purchase!
RealClone Series
The RealClone series of EX Doll is worth mentioning, as they use the sexy model "Jie" as the biological data collection subject, resulting in incredibly soft and realistic products. They are made from highly safe medical-grade silicone material, making them durable and enhancing the authenticity of the sexual experience. Lifelike technology is shaping every aspect of our lives. Imagine coming home after a long day of work to see the most beautiful woman you've ever seen lying on your bed and cuddling up to her for warmth and companionship. This will make life feel more valuable.
The design is not particularly complex, but the details are mainly reflected in the microscopic details as small as 0.3 millimeters. These details are replicated by hand-carving and implanted with tiny hairs to add skin texture. This includes small hairs on the toe joints, palm prints, and goosebumps on the hands, which look more like muscle tissue beneath the skin and are all very exquisite.
Especially the special design of the head-body connection makes the overall realism of the doll reach the extreme. This craftsmanship requires exquisite skills and tests the craftsmen's techniques and patience, and production costs. Creating such a doll should give the craftsmen at EX Doll a great sense of achievement.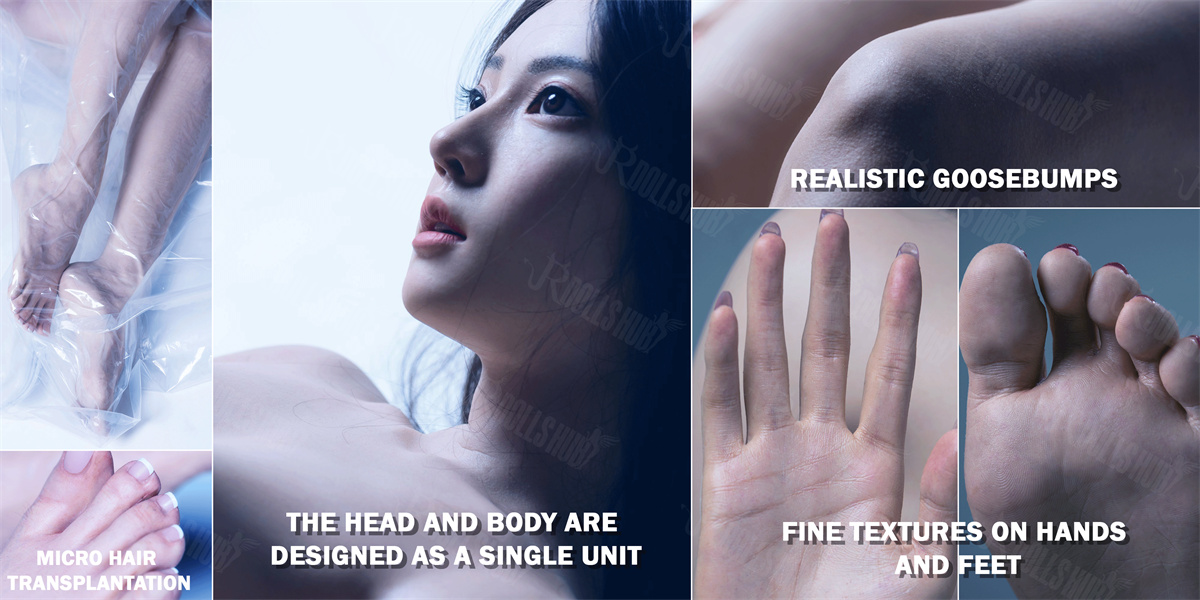 The RealClone series comes with default clone-level body makeup, giving extremely realistic details on the face and joints. Especially the delicate and pinkish joints add a softness to the visual appearance. This effect is achieved because human skin needs to be well-oxygenated and have good blood flow to have a translucent and rosy effect, highlighting feminine features. The eyelashes and eyebrows are implanted more realistically, preserving the integrity of the sex doll.
Cyber Fusion Series
Typically, with a customizable sex doll, you can choose skin color, eye color, and hair color and add realistic features. The lifelike Cyberpunk series dolls offer even more options. They come in both integrated and separate head-body configurations, allowing for complete customization to fit your preferences. Named the Cyber Fusion series, these dolls incorporate multiple advanced technologies, such as 3D modeling and special effects makeup. Additionally, the bodies are infused with biological data from clone troopers, providing an even more realistic feel. With prices lower than the Clone Trooper series, there is no doubt that Cyber Fusion dolls are the most cost-effective lifelike sex dolls available.
Ukiyo-E Series
Realism is the main feature of the Ukiyo-e series. EX Doll offers one of the best Japanese sex doll collections, featuring mature, sexy, curvy Japanese women aged between 20 and 50. They are gentle yet erotic, dressed in uniforms or nurse outfits, and their tight virgin vaginas are always ready to please you. This series comes with three body options: 168 (normal), 168+ (large breasts), and 170 (normal). There are also two makeup options to choose from, including Sut-Makeup and Fut-Makeup, making it a great entry-level product for those wanting to explore the world of sex dolls.
Note: The 170 body can be upgraded to the EVO version, but the other two cannot. The EVO version features a fixed vagina.
Utopia Series
The Utopia series of EX Doll's sex dolls are the cutest and most perfect anime girls, such as Kunyomi, Chiyou, and Yuu. On the other hand, compared to the previous three series, the Utopia series has a smaller body size: 145- (small breasts), 145 (normal), and 145+ (large breasts). You can easily control their bodies and enjoy them in bed, bathroom, kitchen, or backyard. They are easy to store and carry. They have the same Sut-Makeup and Fut-Makeup options as the ukiyo-e sex dolls but are more affordable. The Utopia series is a good choice if you are looking for portability and discretion.
The Difference Between Sut-Makeup and Fut-Makeup.
Fut-Makeup includes many more details and has more creative ideas for makeup inspiration. Dozens of senior makeup artists carefully carve every detail down to the veins, skin texture, and color variations on the body, portraying every characteristic to make each doll unique.
Compared to Fut-Makeup, Sut-Makeup has a lighter makeup style and lower saturation, focusing on presenting more details and layers on the skin, creating a more textured and realistic appearance.
Normal Body VS EVO Body
The realism of the EVO body offered by EX Doll is truly impressive. They have made numerous modifications to the traditional body, adding many details and structures, including collarbones, back, hands, feet, and a very realistic fixed vagina, thereby enhancing the overall realism and durability of the doll. This is a unique innovation, as many manufacturers often overlook these details.
Super Soft Top-Grade Liquid-Filled Breasts
EX Doll can provide an exciting gel breast experience. The gel is implanted into the silicone doll's breasts, giving them a feel similar to natural breast tissue. Soft and elastic breasts become the sexiest focus of the doll's body. For a sex doll, breast sex can be both sensual and hot, meaning you can have an exclusive breast sex time with your doll.
Realistic Jelly Vagina With an Ultra-Realistic Softness
Continuing with our specially made jelly vagina, it feels even softer and more realistic, with a tunnel interior filled with uneven textures that simulate the touch of a real female vagina, enhancing the authenticity of the sexual experience while being safe and durable. If you choose to have the genital area with simulation hair, it will have even more realistic features.
Flexible and Realistic Finger Bones
The finger bones that can simulate human finger movements are really cool! EX Doll has enhanced joint rotation and finger posture while reducing the possibility of joint fractures. The effects look much better than ordinary finger bones and can be easily opened, bent, and grasped. We must be creative in terms of sexuality, and a simple example is that you can use her to touch your own body to achieve sexual pleasure!
Articulated Toe Digits
The foot linear metatarsal bone reduction is a work of art incorporating improved fusion technology, resulting in a special level of detail and a truly amazing and incredibly realistic appearance. Apart from its realism, the biggest advantage of this type of bone is its durability. Traditional sex dolls' toes are very soft and fragile, but as technology advances, they are slowly replaced by more realistic feet. The toe bones offered by EX Doll are one of the tops in the industry.
Extensive Customization Services
Realdollshub is the top authorized agent for EX Doll, and we offer over 1000+ different styles of sex dolls for you to choose from! When you purchase a sex doll from Realdollshub, you have the freedom to customize every aspect of your doll, from the eyes, hair, and skin color, to more realistic features such as a virgin touch, an automatic vaginal suction function with moaning sound, and a heating system. In addition, Realdollshub offers the best price guarantee and multiple payment methods for all new sex doll models.
Various Body Types
Here, we provide the most detailed EX Doll body measurement chart. At EX Doll, bodies and heads between the Utopia Series and Ukiyo-e Series can be mixed and matched. How to choose the perfect sex doll from the vast selection of doll products? At Realdollshub, you can select the perfect body and match it with the most beautiful doll head and makeup you think is perfect! That's how you find your ideal soulmate sex doll!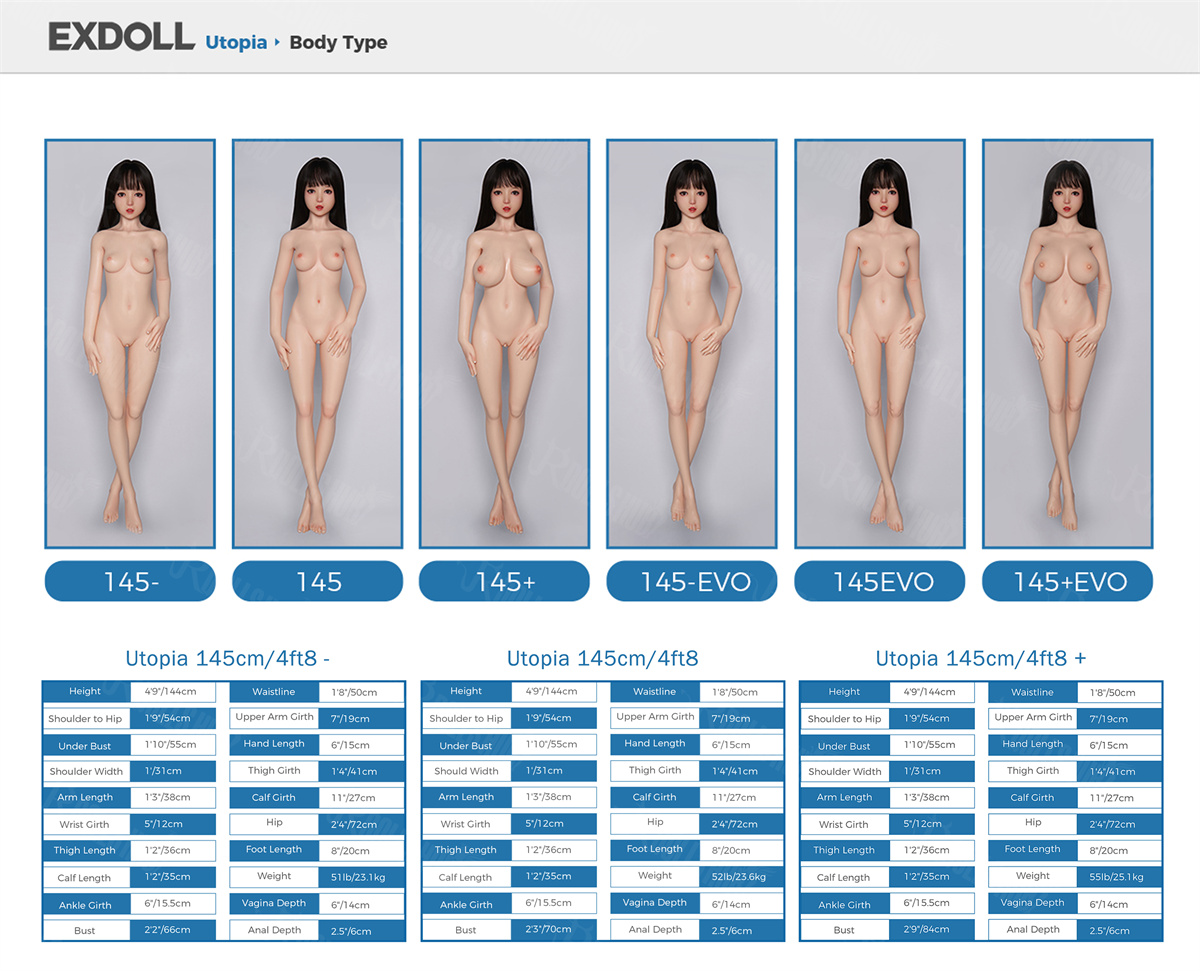 Read More
Company Info
Company Policies
Popular Content
Contact Us

WhatsApp: +86 191 5494 6268

Phone: +1 (361)-813-0910

Email: service@realdollshub.com

Start a WhatsApp chat with us: