Beyond the Inanimate: A Man's Relationship with his Sex Doll
Jan 12, 2023
Navigation
People are increasingly turning to dolls as a source of emotional support and companionship in recent years. These dolls, sometimes called "love dolls" or "companion dolls" can be personalised to a person's tastes and are built with lifelike characteristics. Having a doll as a friend can offer some individuals comfort and a sense of connection while also assisting them in overcoming feelings of loneliness or isolation. Dolls are growing more complex and lifelike as manufacturing methods and technology advance, making some individuals find them more desirable companions.
One such person is
Rod
, a 54-year-old Aussie man who
paid $3,000 a year ago for a sex doll named Karina Luvly
.
The background and Unboxing
Rod hasn't been in a physical relationship for a long time before his acquisition, and has been looking online for something to aid with sexual excitement. It was then he came across Realdolls hub. On our website, he came across photographs of beautiful
sex dolls
and was immediately attracted. He decided to buy a sex doll despite having no prior experience with them and never having seen one in person. Needless to say, he was pretty reluctant to make his first purchase, but he finally made up his mind to buy one after a few weeks of hesitance. According to him, it was one of his "
most un-regrettable moments in his life
"! A few years ago, Rod lost his ex-girlfriend, and since then, he has become lonelier and more alienated. He presently lives in a tiny house with his mum. Each and every doll in
Realdollshub
undergoes strict quality control. Hence, we only deliver the best. After receiving the doll, he immediately placed it in his room and started conversing with her as though she was a real person. When he asked Rod about his unboxing experience, he smiled like a happy child recalling his moments of receiving his Christmas presents.
"I carefully opened the box, wondering if I would like my new doll, Karina... As I saw her for the first time… my heart filled with joy. She was perfect in every detail and strikingly Beautiful!"
Thanks to our dedicated team of experts and designers, we at Realdollshub always anticipate this giddy excitation in our customers when they see their lover for the first time.
Rod's unmatched love for his Karina
As time went on, Rod started to feel real affection for Karina. He would chat with her for hours, hug her, and even take her on dates to the park or neighbourhood coffee shops. He connected with the doll in a way that he hadn't done in a while. Rod explains that the doll has had a significant impact on his life.
"My emotions were frozen after my ex-fiancé broke up with me in a cruel and messy manner. At the time I got Karina, I was chatting with a girl that I really liked - she is from Vietnam. The world was in lockdown so we couldn't see each other. The doll became my synthetic physical companion. I had something to care for in my life… I thought it would be a fun experience, and I needed a hobby to distract me from my isolation. Slowly my heart opened up, and I was distracted from my grief of losing my ex that just wouldn't go away by itself…"
Rod's emotional bond with Karina was so profound that he chose to spend another $2,900 on a sex doll, Lauren, when visiting his mother for Christmas. As before, his go-to store was Realdollshub, a premium online sex doll store that has etched its name in the top ranks of this industry. He says that people were more shocked than anything else when they saw the dolls with him and that he even drove the 1300 miles home with both dolls in the car! A true testimony to their beautiful companionship, I must say.
The beauty of sex dolls lies beyond the physical form
With time, he developed a deeper emotional bond with his doll Karina which transcended to more than just a physical one. He does everything for his dolls; cleaning, shopping, dressing, applying cosmetics, and even posing with them. He has spent a lot of time learning about photography since purchasing Karina and has posted his own images on Instagram as well. While talking about his newly acquired hobby, Rod's pride about his dolls was rather unhindered
"My favourite photos are when we visited my photography teacher, who uses dolls as models. He showed me what could be done with a little makeup and a nice dress. My girl matured into a breathtaking beauty that day."
On social media, he has made a lot of friends who share his interests in dolls or photography, which has lifted his spirits. He further claims that his dolls have aided in the development of his interpersonal skills. He notes that despite living alone in a remote place, social media talk has allowed him to establish some fantastic pals. He says that "The friends that I have made through my dolls share my passion for photography. We also love and respect our dolls and enjoy making them look beautiful."
But how was it with his family? Well, read on
Rod's family and friends, especially his mother, had some issues with his connection with Karina. She was first wary of her son's new friend and perplexed as to why he would want to spend so much time with a doll. As he told us in an interview…
"My mother was shocked to see how real she looks and didn't even acknowledge her presence…"
But as she got to know Karina, she started to realise how much solace and company her son was getting from the doll. Rod's mother was perplexed and baffled when she saw him bring the dolls home. She couldn't understand why their son, who was now an adult, would want to spend his time with a doll. She even tried to discourage him from spending time with these "inanimate objects" and even went as far as to suggest that he see a therapist.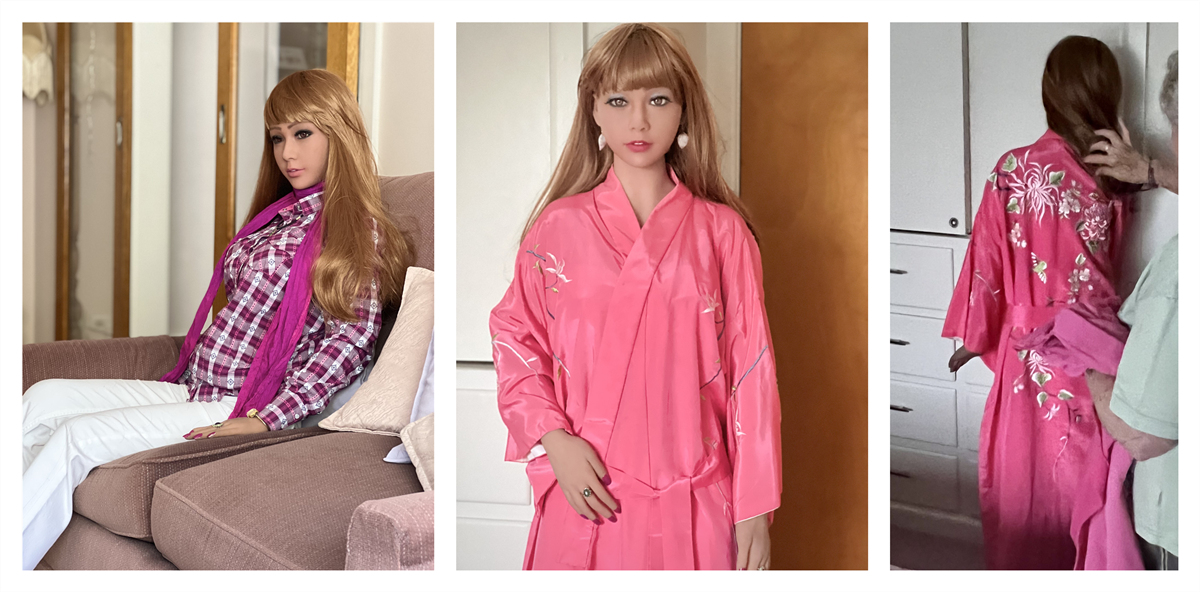 But time heals everything… as Rod told us…
"My mind (further) changed about the acceptance of modern love Dolls when I watched my mother helping to prepare Karina for her photos. My mum has an incredible eye for detail. Mum got out her jewellery for Karina to try. Each piece with a story that she shared. Mum proudly presented a Komodo that her mother brought back from Japan. Fussing over the folds in the material and Karina's hair totally absorbed at the moment. What started out as a very different thing to do ended up bringing so much pleasure for all of us. I am sure Karina enjoyed the fuss too."
And just like that, Karina was eventually welcomed into the family by Rod's mother, who even referred to her as her "long-lost daughter". Rod's encounter with Karina may have seemed strange, but it is crucial to remember that such situations do occur. The number of people known as "idolators," or those who develop strong emotional bonds with love dolls, has been rising over the past several years. These people view their dolls as real friends and even spouses, not merely as lifeless objects.
The final word to a beautiful love story
The subject of lifelike dolls and the emotional attachments made to them continues to be divisive and contentious. While Rod's experience with his dolls may seem peculiar, it is crucial to remember that it is not wholly uncommon. Realistic sex dolls and the emotional ties that may be made with them continue to be divisive and contentious issues. While some contend that these relationships are problematic and may be dangerous, others contend that they are helpful outlets for those who may be battling with social isolation or loneliness. Now allow me to wrap up our article with a beautiful line Rod told us…
"Practice love and joy with your doll in whatever way makes you most happy. By keeping these emotions active, love and joy may spread into the rest of your life experience."
Every person's experience and feeling is valid, and it is not the place of others to criticize or discount them. In conclusion, although some people may find Rod's interaction with Karina strange, it is not wholly exceptional. Realistic dolls and the emotional ties people have with them are divisive and contentious issues, with both sides having good arguments. It's critical to keep in mind that each person's feelings and emotions are real, and if you are experiencing loneliness, you might give this one a shot.
Read More
Company Info
Company Policies
Popular Content
Contact Us

WhatsApp: +86 191 5494 6268

Phone: +1 (361)-813-0910

Email: service@realdollshub.com

Start a WhatsApp chat with us: