Sex Doll Lover Story Sharing - My Christmas Road Trip with Karina
Mar 18, 2022
I believe most of you have heard of sex dolls. But do you really know the real and interesting lives of sex doll player? Maybe you've heard of someone who treats a sex doll like family, dressing her up, watching TV, and sunbathing in the backyard together. Some famous doll players even marry their own dolls under the witness and blessing of family and friends.
Yes yes, these are real things that happen around us. And this has become something that not surprising. But let me tell you, it's only a small part of life for doll lovers. The joy of living with a sex doll is much more than that!
After last interview with our fan Rod, quite a few doll lovers were interested and want to know more about their stories. It is honored for RealDollsHub.com to interviewed Rod again, he would like to share one of the most memorable events with his lovely doll Karina so far.
("My first meet with Karina", Please click here to review the previous content. )
Interview content:
RDH:
"
Many doll
lovers usually interact with their dolls, can you share with us the most impressive thing you spent with her?"
Rod: "Hi, my name is Rod and I am a doll lover. The most significant thing that Karina and I have done together is traveling 900 Miles to visit family last Christmas. I took Karina with me because I really wanted her company for the long drive."
RDH:
"Can you share more details with us and how you did it?"
Rod: "I was to stay with my mother who although she knew about Karina, had not even seen a photo of her. I was a bit nervous about how she would react. My mum after her initial shock seeing how real Karina looks ended up treating Karina like a long lost daughter."
Rod: "We live remote so the first leg of the journey was in my 4WD Ute. Then changing to my baby, a v8 sedan. Karina looked amazing sitting there next to me. The scenery was beautiful on the trip. Karina was my inspiration to stop and take a few photos along the way. Nobody seemed to notice that I was traveling with a Doll. They just casually glanced over and away again, totally unaware. I was really enjoying myself instead of having a lonely time."
RDH:
"Did you have any new ideas after going through this? Has it changed your mind about love dolls?"
Rod: "My mind was changed about the acceptance of modern love Dolls when I watched my mother helping to prepare Karina for her photos. My mum has an incredible eye for detail. Mum got out her jewelry for Karina to try. Each piece with a story that she shared. Mum proudly presented a Komodo that her mother brought back from Japan. Fussing over the folds in the material and Karina's hair totally absorbed at the moment. What started out as a very different thing to do ended up bringing so much pleasure for all of us. I am sure Karina enjoyed the fuss too."
Rod: "Seeing the way my mother was towards Karina gave me an idea, what if she had a companion doll of her own? We had a Merry Christmas together."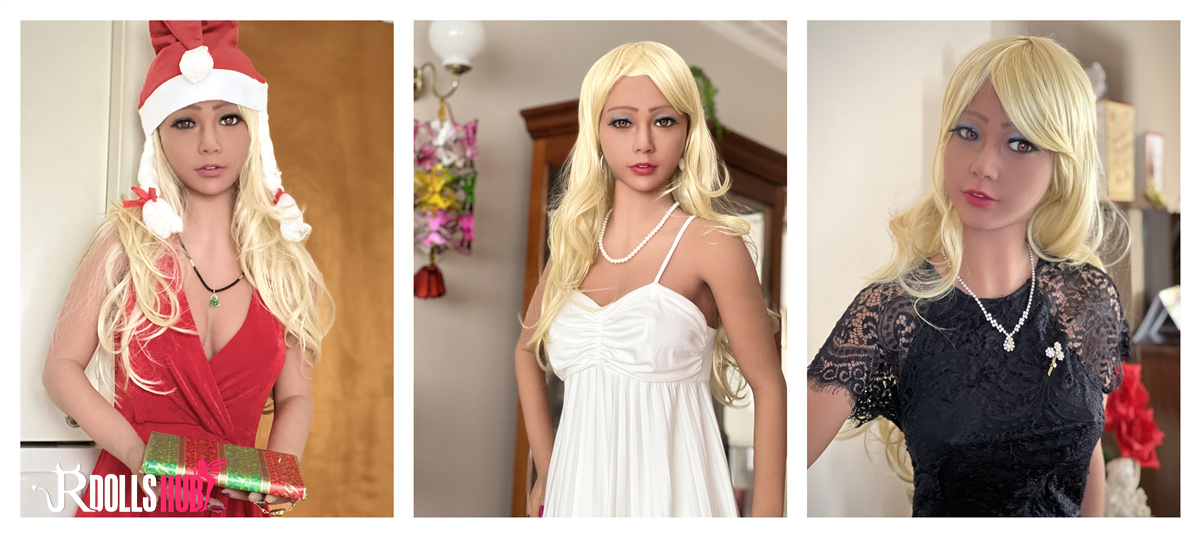 RDH:
"If you had to say a word to other doll lovers, what would you like to say to everyone the most?"
Rod: "Practice love and joy with your doll in whatever way makes you most happy. By keeping these emotions active love and joy may spread into the rest of your life experience."
RDH: "Thank you very much for your sharing again Rod! We totally agree with your point of view. Love doll brings joy to many people, but more importantly, in the process of getting along with her, we have practiced how to love and take care of a person unconsciously. This emotion will also have a positive effect on other parts of our lives."
When you read this, I believe you have the same feeling that sex dolls are already very common. It has walked many people's lives and has been accepted by many families.
It will not be strange to get along with people and love dolls but have another fun. I can see what's behind this is more of the company that the doll brings to people. They make people learn to care and love.
If you feel the same way, you might try to take the first step as well. Visit our site and bring your destiny home! Trust me, you will find that you have opened the door to a new world!
Thanks for reading, and if you want to know more interesting stories of Rod and Karina, please click this link and subscribe them. If you have another interesting story to share, you are very welcome to contact us online or email us through service@realdollshub.com at any time! We are happy to let your story be known by more people, thank you!
Read More
Company Info
Company Policies
Popular Content
Contact Us

WhatsApp: +86 191 5494 6268

Phone: +1 (361)-813-0910

Email: service@realdollshub.com

Start a WhatsApp chat with us: