Hottest 2B Sex Doll Selection Guide - Get Your Dream Lover Today!
Mar 23, 2023
The best 2B sex doll is a new type of sex doll inspired by the famous game "Nier: Automata." Even if you have not played the game, you may have seen protagonist 2B or glimpsed her skirt by chance.
In the game, she is an intelligent machine created by YoRHa to represent surviving humans in the battle against invading mechanical life forms on Earth. She has short white hair, a flawless doll-like face, wears a black eye mask (which is actually a standard military goggle), a black gothic-style dress, and black over-the-knee high-heel boots with perfect muscle lines on her legs. If she is the dream lover, you have been looking for, finding a suitable replacement for her in real life seems difficult. But Realdollshub makes dreams come true for sex doll enthusiasts and collectors by providing various role-playing new dolls! Among them, ZELEX, WM, MOZU, and SE are professional sex doll brands and manufacturers, each of which has released its unique version of the 2B sex doll. In the following part, we will review each 2B to see which is best for you.
Here are The Top Four Best Brands of 2B Sex Dolls:
ZELEX Doll is one of the highest-quality silicone dolls in the sex industry. Founded in 2013, it combines traditional wax carving with 3D digital modeling technology. Its reasonable price and attention to detail make it one of the youngest and most potential manufacturers compared to other brands. ZELEX DOLL's 2B love doll is one of the most realistic-looking silicone sex dolls on the market, using non-toxic platinum silicone imported from the United States. Even sensitive skin can use it easily. Veins, red blood vessels, and normal skin spots are visible, and the ultra-realistic degree allows you to feel like you are fighting side by side with her in the game. The 170cm tall and slender body perfectly reflects the agility and fierceness of this character, and it is full of killing intent.
The most important thing is the upgraded high-quality skeleton, which can restore the complex and diverse leg movements of 2B wearing high-heeled boots, almost providing all the femininity in this character design. ZELEX DOLL also provides various upgrade customization options. You can upgrade options such as implanted hair, eyebrows, and eyelashes for a more realistic visual effect. With a sufficient budget, you can choose to have gelatinous breasts and buttocks, giving her a unique shape and natural fullness while maintaining a soft touch. So when you have sex with her on the bed, you will feel the softness of a real woman!
If there's one genuinely fascinating thing, it's the vagina that's most popular among sex doll enthusiasts. The 2B sex doll's vagina is made of ultra-soft material and feels like a real woman. It's tight and full of complexity, and if you want even more realism, it's recommended that you upgrade to the automatic suction vagina option! This is a must-have upgrade option for a partner that can please you and surprise you with its perception of sexiness.
Original price: $2300, Discounted price: $2070; Free items included: a second head, jelly breasts, jelly buttocks, automatic suction vagina, standing feet without nails, EVO skeleton, articulated fingers.
The WM DOLL 2B sex doll is made from high-quality, soft TPE material that resembles natural female skin. If you want to add extra realism, you can upgrade to a silicone head and body for a more lifelike effect. Combined with the black and white color scheme that incorporates many religious and ceremonial elements and designs like puffy sleeves, hollow patterns on the chest, and a backless dress with a standard waistband, this doll perfectly embodies the confidence and beauty of Asian-style femininity.
The WM DOLL 2B love doll has a slightly fuller D-cup bust than the ZELEX DOLL, which is not easily noticeable but stands out with strong contrast once noticed. If you enjoy oral sex, this 2B doll is a godsend for many oral sex enthusiasts. The complete oral structure and softness will leave you with unforgettable memories.
Original price: $1943, Discounted price: $1749; Free upgrade options: a second head, gell-filled breasts, realistic body painting, standing feet, EVO skeleton, articulated fingers
For users who are anxious, lonely, or depressed and crave emotional interaction, WM has developed a simple upgrade option with body moans and dialogue systems. You can open up to her and express your thoughts to a lifelike 2B sex doll. She will patiently listen to and understand you. This is a great way to relieve anxiety, release and accept emotions, and satisfy sexual needs.
MOZU DOLL and WM DOLL offer the same upgrade options. MOZU is a well-known manufacturer of anime-inspired dolls made from TPE material. Most of their 2B sex dolls have fantastic, anime-like faces. 2B's face is a perfect, flawless doll-like face that looks nothing like a human. The striking silver hair, black headband, snow-white skin, cherry lips, and a beauty mark on her chin are all meticulously crafted to the highest precision and proportion, making it irresistible to anyone who sees it. The life-sized doll has excellent collectible value.
Original price: $1666, Discounted price: $1499; Free upgrade options: jelly lips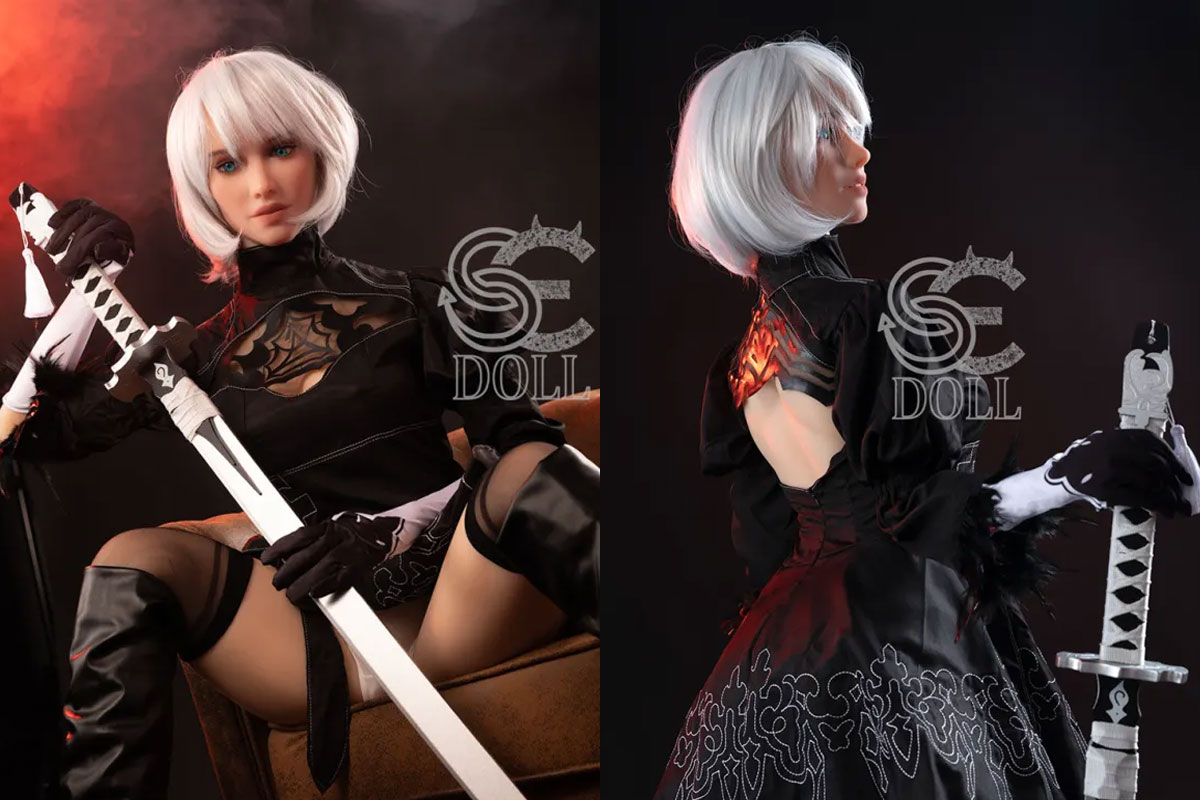 SE Doll is our latest brand of lifelike sex dolls. They have rich knowledge and experience in producing high-quality TPE dolls. This 2B sex doll achieves the highest industry quality standard with its highly realistic feel, using only medical-grade TPE material, providing doll enthusiasts with a convenient sensory experience that is highly sought after. It includes vaginal, anal, and oral openings, and all SE sex dolls come with options for oral sex and non-lubricated vaginal opening, providing the ultimate sexual experience! You can customize her according to your preferences, including eye color, hairstyle, skin tone, and all the little details. We also offer additional upgrade options such as breast size, skeleton, and super-realistic body painting to customize your favorite role-playing sex doll for an even more realistic feel!
Original price: $1887, Discounted price: $1698; Free upgrade options: a second head, gell-filled breasts, face freckles, standing feet, EVO skeleton
What will I choose?
Here are the four most popular 2B cosplay sex dolls on the market. If you're wondering which one is the most professionally designed and of the highest quality, as a sex doll player, I will choose ZELEX DOLL's 2B sex doll (if you have a sufficient budget).
ZELEX DOLL's doll replicates every detail of the game, depicting every characteristic of 2B, making it truly unique. Otherwise, we recommend WM Doll's 2B real doll. Because she has a relatively high degree of restoration and comes from a famous brand, it is the most cost-effective choice!
Besides, to maintain the maximum degree of replication, the cosplay costumes from realdollshub are also tailor-made, exuding a sense of luxury. And rest assured that under ideal circumstances, the clothes will not get dirty when they come into contact with your doll. We provide you with two 2B cosplay costumes, so hurry up and bring them home together!

Extra Benefit
You're fortunate if you're a loyal "NieR: Automata" fan and planning to get a 2B doll. You can confidently tell Realdollshub because you'll have a chance to win a free 2B cosplay outfit set! Bring home these charming 2B sex dolls, and you'll become the male protagonist in the game! Stop daydreaming now. It's time to have romantic sex with your 2B wife in real life!
Read More
Company Info
Company Policies
Popular Content
Contact Us

WhatsApp: +86 191 5494 6268

Phone: +1 (361)-813-0910

Email: service@realdollshub.com

Start a WhatsApp chat with us: