GAME LADY DOLL
(52)
We make the "unattainable dream" of computer game fans and sex doll lovers come true by bringing video game characters to life in the real world. Realdollshub is proud to be one of the few authorized vendors for Game Lady Sex Dolls, and our selection speaks for itself.
As a distinguished authorized retailer of Game Character Dolls, Realdollshub takes pride in offering a stunning array of authentic, high-quality companions for the discerning collector. We also provide you with the Cosplay Costume of each character. Embrace the allure of our ravishingly realistic cosplay dolls, and don't miss your chance to indulge in an unparalleled fantasy experience. Know more Top 10 Hottest Game Character Sex Dolls in 2023 from our blogs.
Everything About G

ame Lady Doll!
Introducing the Game Lady Dolls, a dazzling sensation in the world of intimate companions, meticulously crafted to embody your most cherished video game vixens. Our exquisitely designed silicone dolls draw inspiration from seductive and enchanting characters like Tifa sex doll and Aerith sex doll of the iconic 3D masterpiece, "Final Fantasy VII Remake." Ciri sex doll and Yennefer sex doll from "The Witcher 3". The unmatched attention to detail in our game sex dolls sets us apart, flawlessly replicating the likeness of these alluring virtual heroines.
Game Lady Doll Factory Picture and Ready to Go
These photos are from our accurate customer orders and have not undergone any special image processing or Photoshop. As you can see, Game Lady's quality control and overall quality are top-notch, with little difference from the models depicted in our promotional posters. As an authorized distributor of the Game Lady Doll, Realdollshub has sold many dolls, including the most popular Tifa sex doll, Ciri sex doll, Aerith sex doll, and so on. We strictly prohibit counterfeit products and other unethical practices so you can confidently purchase. Check our REVIEWS of Tifa!
Super Realistic Details Bring You Visual Climax
Experience the breathtaking realism of Sensual Fantasy Dolls, from the supple skin texture to the delicate touch, authentic blood vessels, and intricately detailed intimate areas. Our captivating creations bring your favorite gaming fantasies to life, fulfilling the deepest desires of video game enthusiasts and doll aficionados.
Rich customization options and characters
Game Lady Sex Doll offers various customization services for fans, including four skin tones, nipple and labia colors, and whether or not the doll can stand. One great option for frequent use is a removable vagina, which is very convenient for cleaning. After each use, you don't need to move the entire doll to the bathroom.
Moreover, there are about 20 characters, including different versions of silicone doll heads, such as Tifa sex doll heads from the [Final Fantasy 7 Remake] performance and the [Dissidia Final Fantasy NT] version. There is even a Tifa soft silicone head version with a movable jaw and orgasmic facial expression!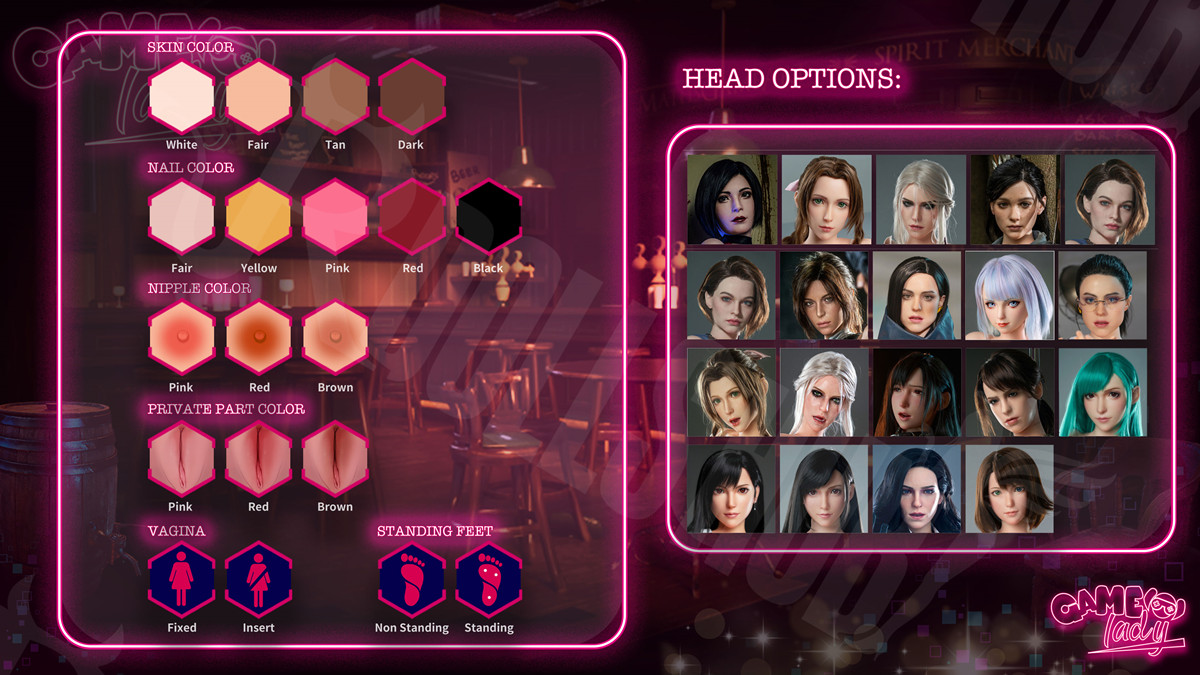 Please note: all Game Lady sex doll heads come in two versions - a regular silicone head (rugged silicone without a mouth channel) and a soft silicone head (with a mouth channel for oral sex, but less realistic than the regular silicone head and cannot be implanted with hair). If you have a limited budget but still crave a perfect gaming character sex doll, purchasing a Game Lady sex doll head separately and installing it on an existing doll body is also a great option. However, please ensure your doll's body is compatible with the screw in the picture below. We will provide an extra head screw for you as a gift.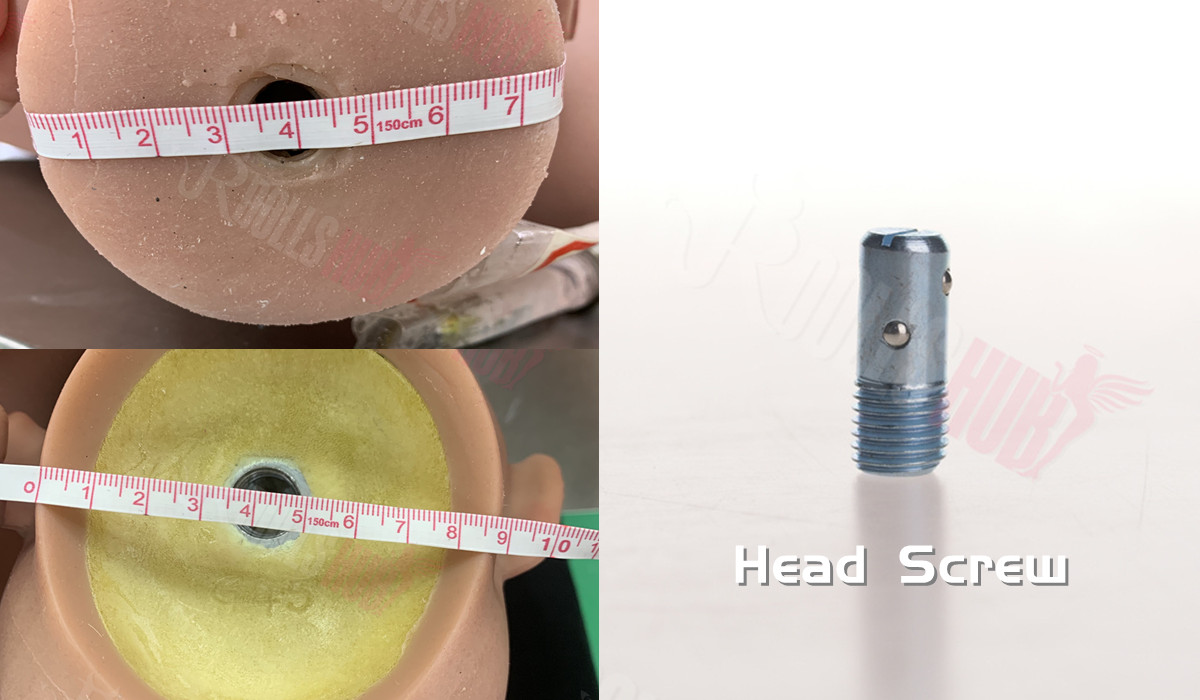 Various Body Types are Available
Game Lady Doll has launched five different body types for you to choose from so far, which are 100cm/3ft3, 156cm/5ft1, 166cm/5ft4, 167cm/5ft5, and 168cm/5ft5. The 100cm Game Lady Doll is currently only available in the Mini Tifa version, while the other bodies can be freely combined with different heads. The curvy 167cm/5ft5 body is the most popular among them. The bigger, the better, right? However, if you have weaker strength, we recommend choosing the 166cm/5ft4 body, which is equipped with the most advanced weight reduction technology and weighs only 27.8kg, making it more flexible and lightweight!
Soft Game Lady Silicone Head with Movable Jaw & Soft Oral Structure
Yes! In terms of realism, the user experience of sex dolls is what we are more concerned about. Game Lady Doll has launched three new game sex dolls with movable jaws, complete oral structure, and orgasmic expressions. They are Tifa, Ciri, and Aerith! This is good news for oral sex enthusiasts, satisfying all your wild fantasies simultaneously! Of course, Game Lady will also release more mouth-opening versions of sex dolls for other characters in the future. Stay tuned!
More Fun with Movable Jaw Soft Oral Sex Doll
The Open Mouth series of Game Lady sex dolls are also made of medical-grade soft silicone. Although they cannot have hair transplants, it does not affect their user experience! You can see that these dolls are equipped with a movable frontal bone, and a soft and realistic oral structure is ready to give you a romantic French wet kiss! The throat has a 13cm/5.1 inch long canal filled with various sizes of protrusions and threads. You don't have to worry about your cock being too big to fit completely, as this is a very flexible and soft canal that will suck you in like a black hole but leave you wanting more and unable to resist!
3 Types of Feet!
If you are a foot enthusiast with a fetish for sexy feet, don't hesitate to choose "Regular Feet"! Although they cannot stand independently, their soft soles can bring you an unprecedented ultimate experience. Then there are the classic Regular standing feet (with three screw holes on the sole). If you dislike the screw holes on the sole affecting the aesthetics, we suggest you choose the most popular Non-Screw Standing Feet (Hard Feet) currently available. Not only can they make your doll stand alone, but they can also wear different sexy high heels. This is your best choice if you want her to step on you or your sensitive areas!
28 Movable Joints!
Game Lady Dolls are equipped with the EVO upgraded alloy skeleton, which features 28 movable joints that allow for lifelike movements like a natural person! If you're a photographer, she can be your exclusive model, posing in various positions for you to capture. If you're a bedroom player, whether it's missionary, doggy style, or cowgirl... there's nothing she can't do that you can imagine! Explore more exciting positions with her now!
Please Note: In general, silicone dolls are heavier and have tighter joints than TPE dolls but are also more durable and sturdy. Adjusting them to the desired position may take effort, but there's no need to worry about breaking them because the alloy skeleton inside is robust. So go ahead and love her boldly!
How to Set up Your Game Lady Doll's Head and Wig?
The head and body are packaged separately to avoid damaging the physical doll during transportation. Additionally, if you choose the option of a soft silicone head or a regular wig, the doll's head will be soft and smooth when you receive it and will require you to install the wig. Here are the steps to install your sex doll's head and wig:
Step 1

: Tighten the screw that connects the doll's body and head to the doll's neck.

Step 2

: Align the screw hole at the bottom of the doll's head with the screw on the neck, then gently tap it to ensure it is secure.

Step 3

: Remove the wig, comb it gently, find the correct direction, adjust it to the appropriate height, and fasten the wig's clips at the back of the head.

Step 4

: Use a comb to comb the wig gently. You can also use a curling iron to create your preferred hairstyle.
Realdollshub also provides various wigs to choose from if you need extra wigs.
Dress up your Game Lady Doll
For many new players, dressing their sex doll can be a slight challenge if you have no experience. This is because the surface of a new doll's skin may feel oily, making it difficult to dress her (without applying talcum powder). But don't worry. We will guide you on how to dress your gaming sex doll. You gotta read our blogs about: Things to Know About Sex Doll Clothes and Accessories.
Step 1

: First, stand the doll up at the waist and lift her out of the box (the beauty has some weight, so please be careful).

Step 2

: Gently lift the doll's head and remove it if it has already been installed.

Step 3

: Raise the doll's hands and dress her on top.

Step 4

: Stretch her arms to the back and put on the jacket.

Step 5

: Put her legs together and up, then dress her in underwear or a skirt.

Step 6

: Finally, use one hand to lift the entire doll slightly and use the other hand to dress her in the pants.
And that's it. A simple dressing process is complete! Dressing your real doll is a pleasure, but it also requires a little patience and skill. To meet everyone's needs and provide more fun and a better shopping experience, Realdollshub offers a variety of popular Cosplay Costumes, Sexy Lingerie, and even the most suitable flight case to store your little secrets! So, if you have any more questions about Game Lady Doll, please get in touch with us! We will help you out with our professional customer service team. Don't forget to clean your sex dolls after use!

Company Info
Company Policies
Popular Content
Contact Us

WhatsApp: +86 191 5494 6268

Phone: +1 (361)-813-0910

Email: service@realdollshub.com

Start a WhatsApp chat with us: