Game Lady Dolls: Top 10 Hottest Game Character Sex Dolls (2023)
Mar 10, 2023
In 2023, Game Lady Dolls continue to dominate the highly popular sex doll market. Come and take a look at the hottest game character sex dolls and see which dolls made it onto our list of the best sex dolls of the new year. Whether you're an anime or gaming enthusiast or a sex doll collector, we believe you'll find your favorite game sex doll at Realdollshub! Realdollshub is a truly high-quality sex doll supplier, and you can now bring home these lovely anime girls and mini anime sex dolls. You'll become the male protagonist in the world of anime!
1、Tifa - from Final Fantasy NT
Height: 167cm, Weight: 35.5kg
Tifa, the Jerusalem of the 3D world, is the best existence in the world! The popular female lead from Final Fantasy 7, Tifa 1:1 life-size doll was launched in March 2022, supporting custom details and styles, which revolutionized the entire industry and was highly sought after. Look at the fair and delicate skin, curvaceous figure, and highly restored makeup. No other brand can achieve such a high degree of restoration. According to customer feedback, these dolls are quite realistic in their details.
Recently, the official announced that this life-size doll has been upgraded to the latest version! Compared to the initial version, the upgraded version has added practical functions that are most loved by game enthusiasts. The head is made of even better soft silicone material with an irresistible climax face, and even has a complete internal mouth structure! It also has teeth, tongue, and a movable jaw just like a real person.
2、Yennefer - from The Witcher 3
Height: 168cm, Weight: 39.7kg
Inspired by the stunning female character Yennefer in the famous video game, The Witcher 3, this sex doll is highly realistic in its restoration, details, and even the character's private parts. If you have ever wanted a Yennefer sex doll, now is your chance to finally have her. Of course, the Yennefer sex doll supports custom details and styles, and you can customize your own Yennefer sex doll.
3、Ciri - from The Witcher 3
Height: 159cm, Weight: 39.7kg
Also from The Witcher 3, Ciri's most notable features are her gray-white hair and scars on her cheeks. Therefore, the manufacturer used high-quality TPE material for Ciri, complete with an internal mouth structure, including a tongue, teeth, and a movable jaw. She is now wearing a sexy black lingerie set, becoming the focus of attention for many Ciri fans who have expressed great interest in obtaining this special clothing.
4、Jolyne - from JOJO's Bizarre Adventure
Height: 168cm, Weight: 39.7kg
Jolyne is a female character from the anime JOJO's Bizarre Adventure. Based on the highly restored Jolyne, the doll is made of high-quality TPE material. Using 3D scanning technology and real data mold design, it gives an incredible sense of realism, with her iconic black-green twisted hairstyle and tattoo details on her body, ensuring maximum realism. She is definitely the ultimate choice for JOJO's Bizarre Adventure faithful fans and doll collectors.
5、Jinx & Vi - From League of Legends
Height: 157cm, Weight: 40kg
In the game League of Legends, Jinx and Vi are sisters and enemies. Vi is a powerful but rigid enforcer, while Jinx is an anarchist with a belt full of bombs. Vi has short pink hair, while Jinx has long blue hair. Their clothing, hairstyles, and accessories are perfectly designed. Jinx's makeup is specially designed, and her head and torso are made of high-quality TPE, which is softer and has received a lot of praise.
6、Melina - From Elden Ring
Height: 163cm, Weight: 35kg
This doll looks almost identical to the Elden Ring girl, including her closed eyes and black cloak. If you're reading this article, Melina proposes a deal: she'll be your "maid" because you "don't have a maid." She's willing to do anything for you.
7、Marie Rose - From Dead or Alive 5 Ultimate
Height: 147cm, Weight: 29.3kg
Marie Rose is a young woman with a petite figure in the TPE sex doll of Dead or Alive 5 Ultimate, which features a high orgasmic facial expression. The doll has small A-cup breasts, elegant and slender contours, and long legs. Marie Rose's head has been upgraded to fully restore the oral structure, perfectly reproducing the mouth, including the tongue, teeth, and movable lower jaw.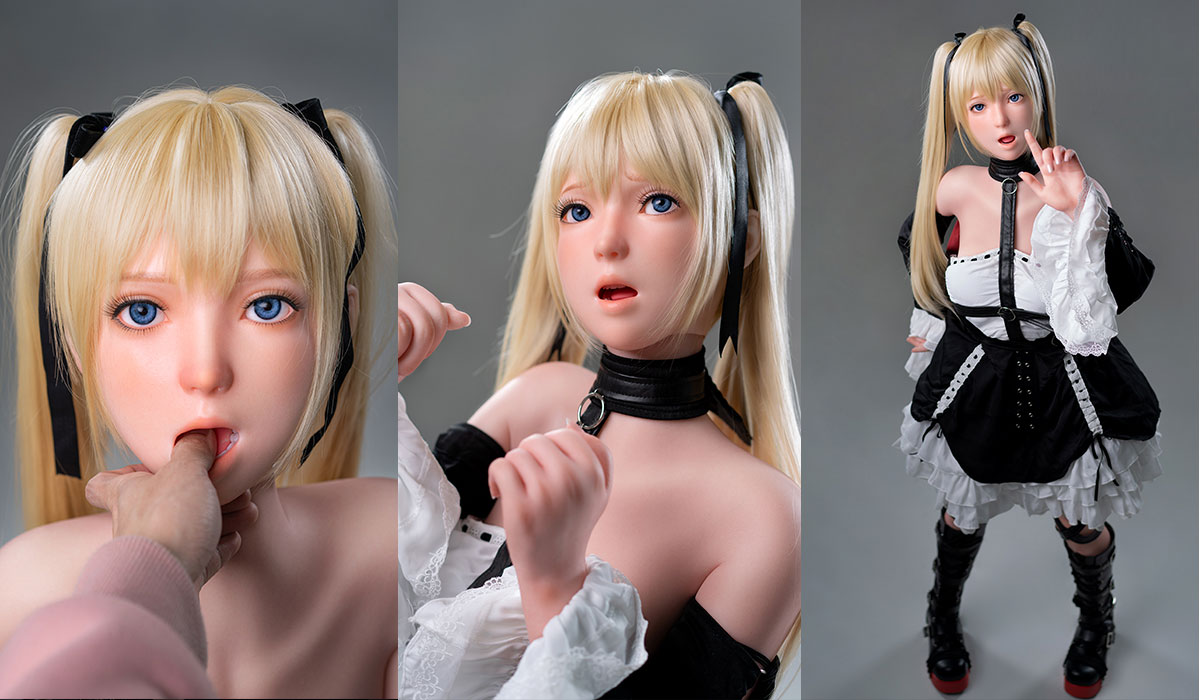 Height: 170cm, Weight: 36.2kg
2B is a character in the game NieR: Automata, and this Zelex doll stands at 165cm with a 7C cup. Her slim and feminine body will melt you and make you kneel. She looks very sexy and powerful, and the height of the doll is just right. The doll is made of medical-grade silicone material, durable, soft, and feels ultra-realistic, just like human skin. It is produced by a top brand in the industry and is worth owning for both sex doll enthusiasts and collectors.
Height: 171cm, Weight: 37.3kg
Ahri is one of the most popular characters in the game League of Legends. The doll is 171cm tall and has full genitals and buttocks with highly realistic details, almost identical to the game. The life-sized doll truly has collectible value. The manufacturer has used an upgraded high-quality skeleton, with a wider range of motion, allowing you to explore more positions with your will.
Height: 171cm, Weight: 37.3kg
Also from League of Legends, Seraphine is one of the most popular female characters. She has the same height and weight as Ahri, and the level of detail in the doll's skin texture, private parts, and overall realism is on par with Ahri. She can be a high school girl in a school uniform, a cute maid, or a bikini beauty. In short, she is highly versatile and can be customized to suit your preferences.
Conslusion
The 2022 Game Lady Doll has made a explosive breakthrough in the sex doll industry, leading to a revolution and inspiring many imitators. In 2023, the Game Lady Doll is becoming increasingly popular and there is more inspiration for it. More and more anime and game characters are being brought into the real world, and high-quality sex doll suppliers can make your dreams come true. You may interested in Nier 2B Sex Dolls.
Even fulfill some long-desired fantasies - yes, you can now bring home famous Final Fantasy Tifa dolls, Witcher 3's Ciri, and Melina sex dolls from the Ring of Elysium! It's best to fill your room! It's time to create your own game harem in real life!
Read More
Company Info
Company Policies
Popular Content
Contact Us

WhatsApp: +86 191 5494 6268

Phone: +1 (361)-813-0910

Email: service@realdollshub.com

Start a WhatsApp chat with us: